How Franklin-Christoph Made Me a Loyal Customer
Published 2015-08-08 by Thomas R. Hall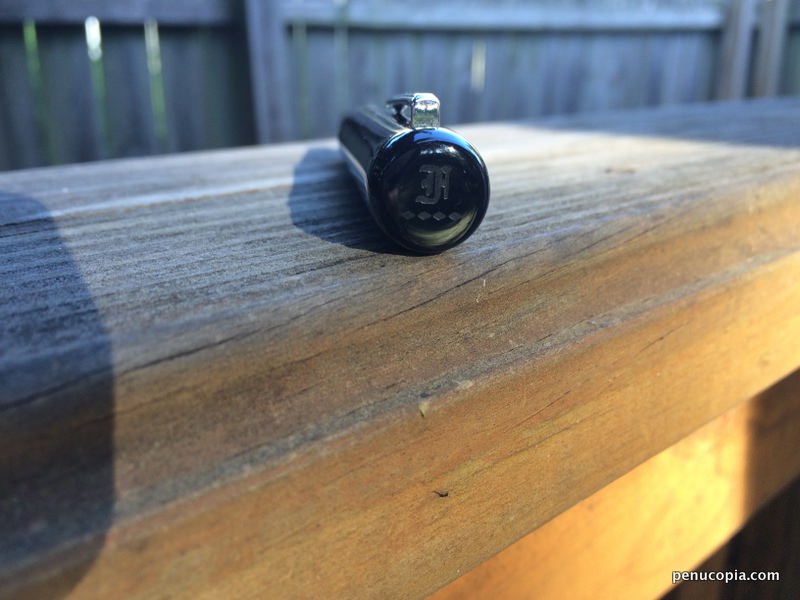 Franklin-Christoph Pocket 40 - Cap Finial Closeup
Franklin-Christoph (F-C) is a pen company based in Wake Forest, North Carolina. Their pens aren't mass-produced using an injection molding machine like TWSBI pens are, and they aren't 100% bespoke pens either. They are in between. Franklin-Christoph has a standard lineup of pens, made in a standard set of color options, but are turned, similar to how a pen maker would make a pen on a lathe. They utilize CNC machinery and then hand-finish their pens, similar to how Edison Pens produces their Production Line pens.
However, not everything that Franklin-Christoph does is "standardized". Franklin-Christoph has some unique offerings that make their standardized pens customizable when you purchase.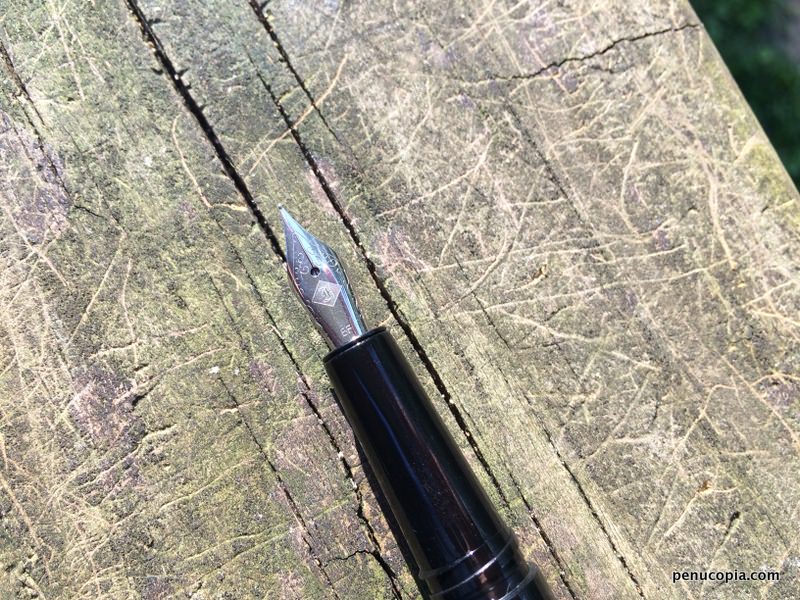 Franklin-Christoph Pocket 40 - Nib Closeup
Available Nib Customization Option - Masuyama Nibs
Something that Franklin-Christoph does that I think is extremely impressive is that they offer a variety of Masuyama-ground nibs for only a $15 premium. If you know me, you know that my absolute favorite person to get nib work done by is Michael Masuyama. There is no one that can match his skills, in my experience. Being able to get a nib ground by Mr. Masuyama for this small price premium is amazing, and it is a nice option that truly sets Franklin-Christoph apart from other pen makers.
Available in both steel and gold nibs, you can get the following Franklin-Christoph Specialty Nib offerings:
Fine, Medium, and Broad Cursive Italic
Fine, Medium, and Broad Stub
Needlepoint (approximately 0.25mm)
(Note: The fine cursive italic and stub offerings aren't listed on the F-C website, but they have been available. I was able to try these out at the 2015 Atlanta Pen show and was very pleased with them.)
Whether you choose a standard JoWo nib in steel or gold, or one of the Masuyama-ground specialty nibs, all F-C nibs are tested and tuned before they are shipped out. If you buy a pen from F-C at a pen show, you are able to test your pen after it has been tuned, and have the nib tweaked to your liking. In fact, I used to wonder why a F-C-supplied Masuyama cursive italic nib was less crisp than when I got it directly from Masuyama directly. That's because the nib has been additionally tuned by someone like Jim Rouse, who smooths the edges to make them more forgiving. Leigh Reyes called this giving the nib the "MasuyaJim" treatment.
"

Custom" Franklin-Christoph Pens?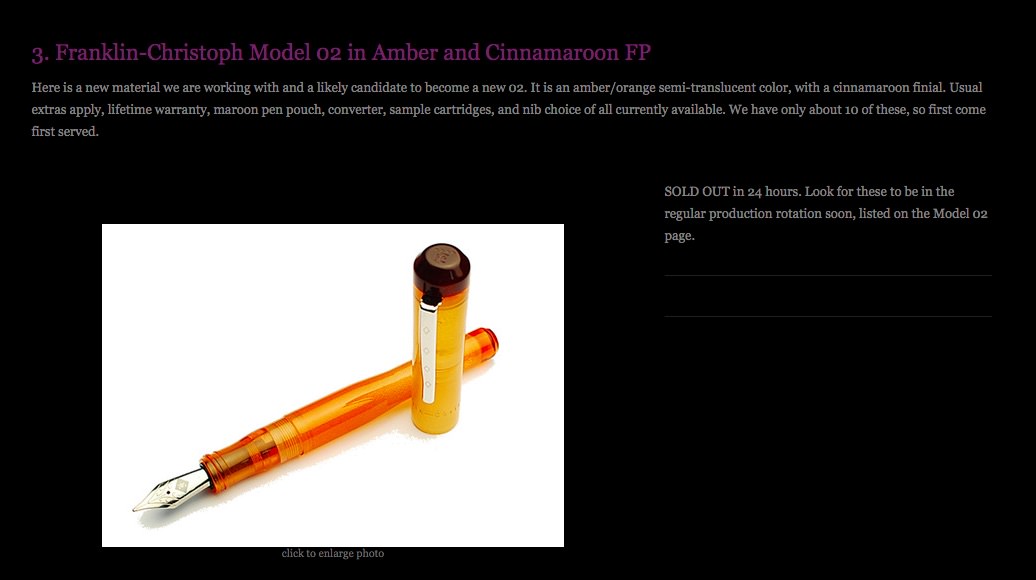 Franklin-Christoph Stock Room One
Sometimes, Franklin-Christoph will produce limited numbers of pens in non-standard colors when they make a new batch. These go up for sale on their Stock Room One page of their website. Whether they do this to test the waters to understand how popular a color combination will be will be or they are making "limited run" pens for those who want something different, this is a neat way to get a non-standard F-C pen.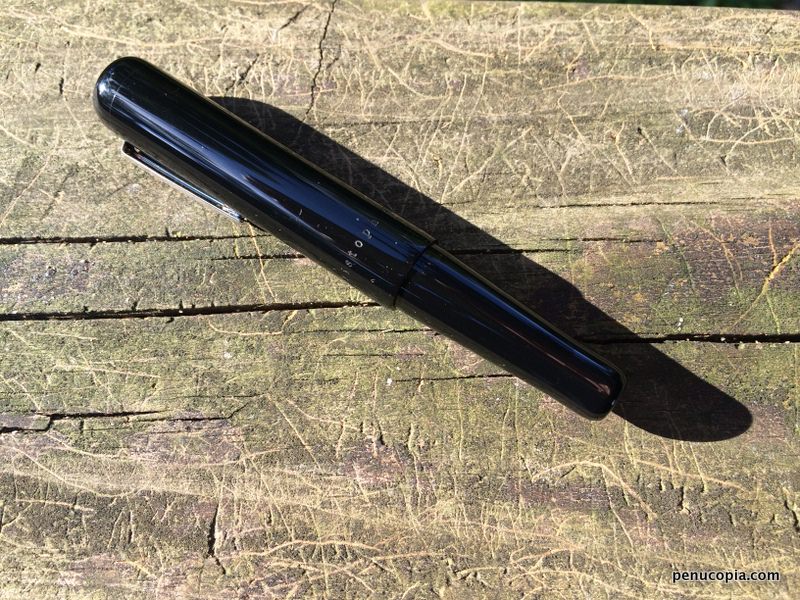 Franklin-Christoph Pocket 40 - Capped
My First F-C Pen
When Franklin-Christoph first released the Pocket 40 in 2012, they weren't available in any of the Ice finishes that have become so popular today. At that time, the offerings were in mostly darker opaque colors. I was looking to try one of their Masuyama Needlepoints in a pen that would look very stealthy, so I was hoping to find an all-black option. They had one in Stock Room One, I didn't see it soon enough. They were all sold out.
Knowing that they will sometimes add new color combinations, I emailed their Sales email account to find out whether an all-black option may come in the future. I received a prompt response from Seth. He tried to see if they had any of the all-black models left in their warehouse, but to no avail. We discussed the other available options (black/maroon, emerald, black/red, black/blue, and creme/light blue), but none were to my liking. So, after a couple of very pleasant email exchanges, I told him that I had decided not to purchase yet.
Fast forward 6+ months later. I receive a reply from Seth stating that they had recently made a batch of Pocket 40 pens, and they made an all-black one. He wondered if I was interested. Yes. Yes, I was. I purchased the pen immediately.
Franklin-Christoph Pocket 40 - Posted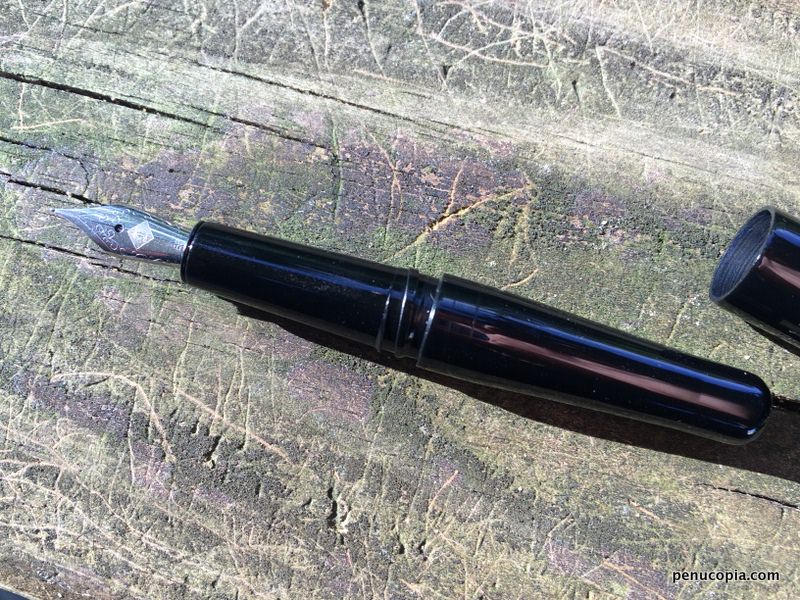 Franklin-Christoph Pocket 40 - Uncapped
Great Service = Beyond Satisfied Customers
The fact that Seth took it upon himself to remember that I wanted an all-black Pocket 40 and to proactively email me impressed me greatly. This was the first sign that Franklin-Christoph operated differently than many other companies do. The personalized touches and true caring they show to customers always impresses me. The fact that they offer custom-ground nibs for a very reasonable price also continues to amaze me.
Not only that, but having had the opportunity to email them for other reasons in the past few years, or interact with Jim and Lori at the Atlanta Pen Show proved to me that they are passionate about pens and also care about customer satisfaction, not just making a buck.
It doesn't matter what industry you're in. If you are selling a product or service, it's not just about the item. It's about the experience. And Franklin-Christoph impressed me so much with how much they care. I'm happy to support them and tell others about them.
---
Have a question or want to comment? Contact options on the About page in the sidebar.