Making of the Edison Double Ended Pearl
Published 2014-09-05 by Thomas R. Hall
Without a doubt, one of the best things about the pen world is the ability to get a custom pen made by a custom pen maker. In addition to regular offerings, you can have them make a pen to your exact specifications, even if your idea is way out there (within reason, of course).
While the Edison Double Ended Skinny Pearl was not my first Edison pen, it certainly is my favorite. But that's probably because I designed it, with a lot of collaboration and suggestions from Brian Gray along the way.
My thanks to Brian Gray for allowing me to share some of the details on how this pen came to be, and for allowing me to share images he took of various prototypes and the finished pen.
I would love to share the story of how this pen came into existence. But first, some history…
Examples of Past Double Nibbed Pens
There have been a number of pens made with two nibs in the past. It certainly wasn't something I invented. In fact, I believe a post on FPN planted the seed in my mind for what I wanted conceptually, after reading it a number of years ago.
As several people have pointed out to me after hearing about my pen, there are even more variations available than I had ever imagined. Definitely check these out because there is quite a bit of variety:
Original Concept
So now that we know I wanted a double ended pen, what was it I asked Brian for? Well, at first, I wanted a skinnier pen. The Pearl was too big of a pen for me, and I didn't like how large the step down to the section was. I started a discussion with Brian in March, 2013.
Originally, my primary wants in a double ended pen were:
Based off of Edison Pearlette
Two nibs (of course), one at each end of the pen. (This was going to have two

EF

nibs with different ink colors to use for highlighting)
All black pen (I wanted stealthy!), but with some way to differentiate what color was in each end
Ability to take short international cartridges or

ED

both ends, as I wasn't sure how a double-ended pen would hold up to being ED'd
So after some initial emails to Brian talking through what I was wanting, I sent him the following very rough sketch (not to scale):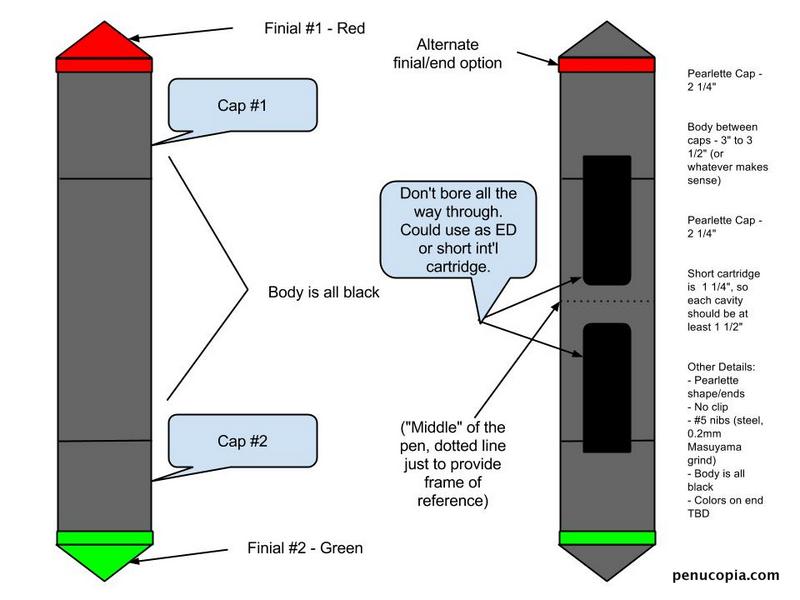 Original Double Ended Pearlette Mockup
One of the biggest sticking points was how to deal with the colored ends. After many suggestions and options (Brian had some great suggestions), we decided on a dark gray translucent barrel with black caps. This way, I could see the ink colors without limiting myself to colors on the caps.
I cannot stress how helpful Brian was during this process. We literally had dozens of emails about various options for ways to tweak this design slightly. Should I have a clip, or not? And on and on. Brian has a great sense of design, and he is able to suggest things that you may not even have considered. Read about Peaceable Writer's experience with a custom pen from Brian to hear another account of having him make a custom pen.
Lastly, I decided that I liked JoWo #6 nibs more, so I asked Brian to make a skinnier version of the Pearl (less barrel diameter, so there was a smaller step down to the section). Nothing left to do but wait for my turn in the queue.
First Attempt
Around the middle of May 2013, Brian got to work on my pen. And he made the pen exactly to the specifications of my original design. Unfortunately, even though I thought I measured all dimensions accurately, this pen ended up being long. VERY long. Brian sent me the following photo of the pen in rough form. One look at that ruler next to the pen told me I had grossly miscalculated.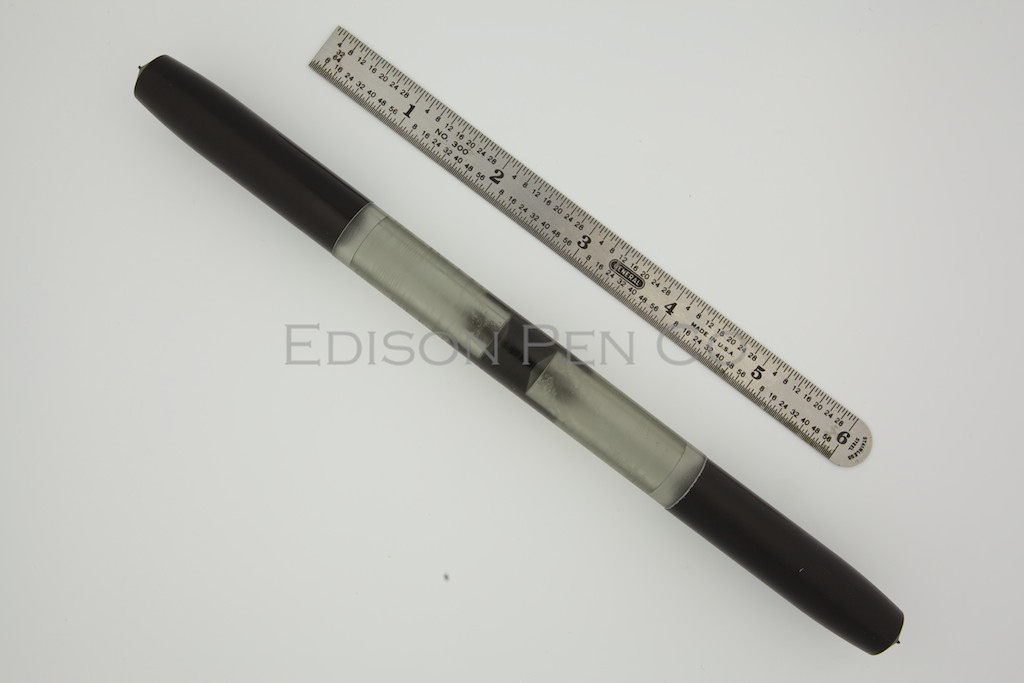 First prototype of the Double Ended Pearl
So Brian and I had discussions on what to do in order to shorten the pen. The main thing that was making the pen so long was the ability to use short international cartridges. So we removed that requirement and went ED-only. Hopefully nothing would go wrong!
Second Attempt
So Brian made a new prototype based on the updates. He sent me the same type of "unfinished" pen photos to let me see what I thought. You see, the pen was over 7 inches long still, and that made it longer than the Pearl by quite a bit still. But maybe it could work out?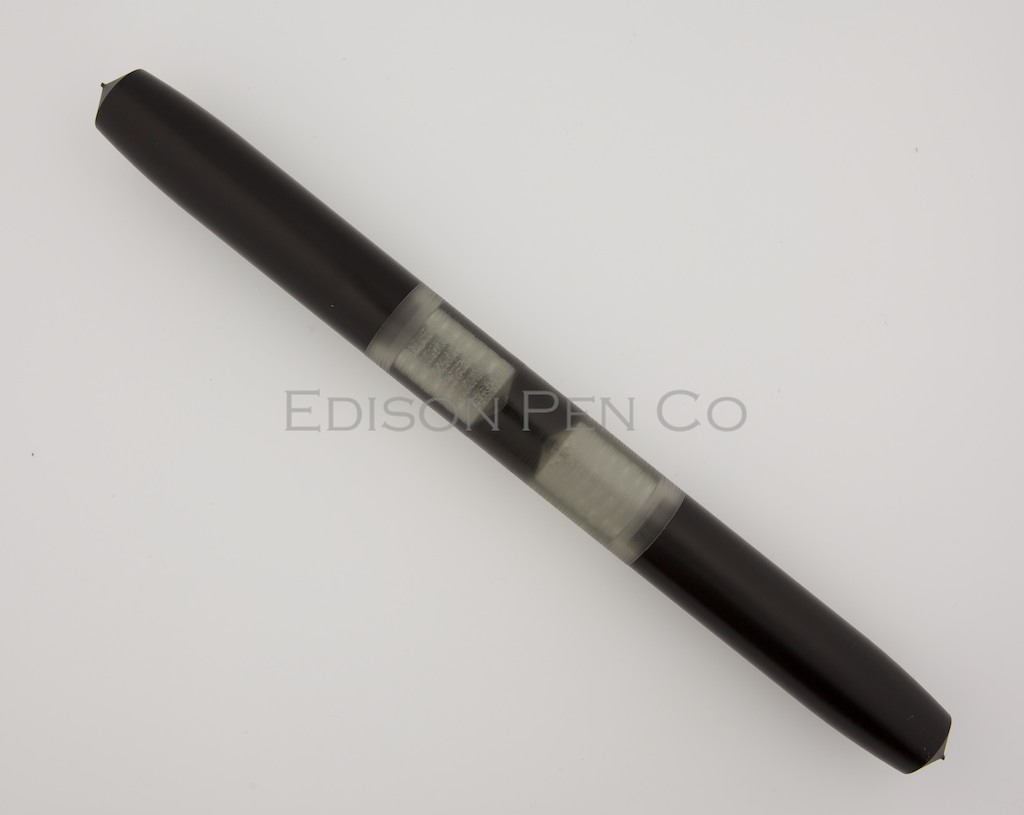 Second Prototype of the Double Ended Pearl - Closed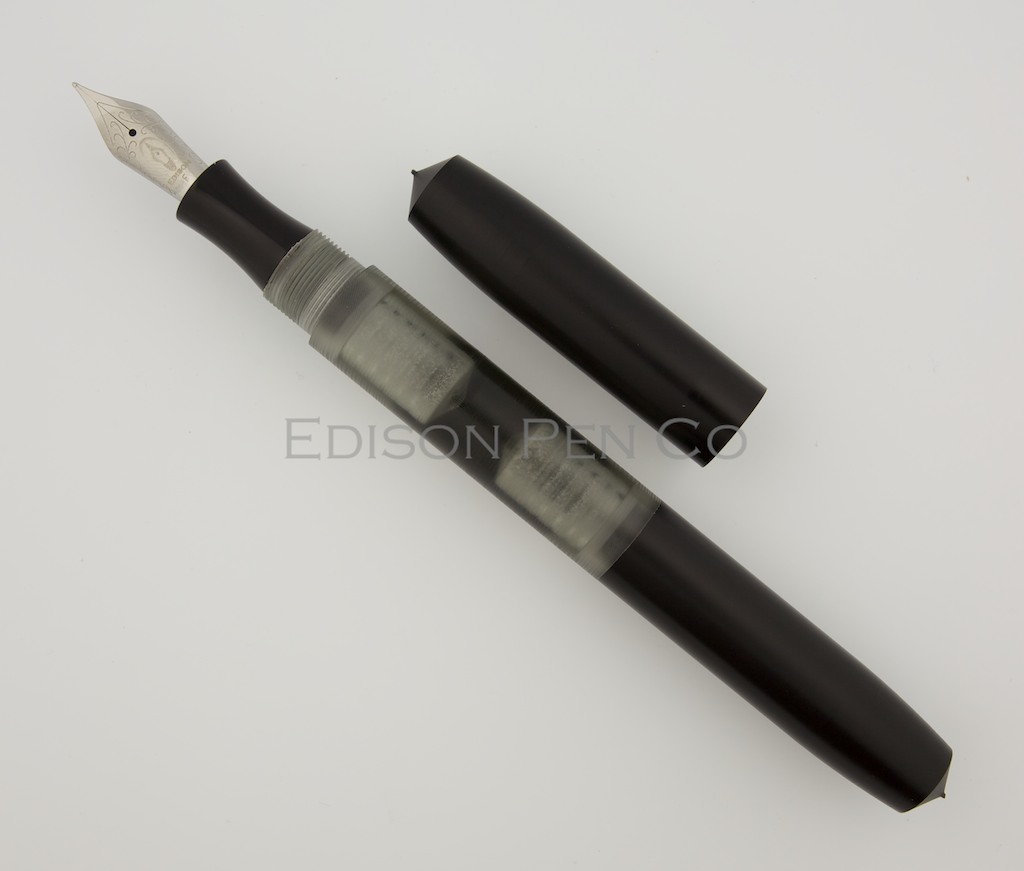 Second Prototype of the Double Ended Pearl - Uncapped
Based on the photos, I thought this could work, but I really wasn't sure. I asked Brian to send me the prototype so I could hold it in my hands and see if it would be too unbalanced (backweighted) and long for me. We are near the end of June now, and I was happy with the progress we were making, but definitely nervous to get the pen in hand to try for myself.
Once the pen arrived, I instantly knew it was still too long for me. I could have just told Brian, "This could work, let's call it done." But then I truly wouldn't have been happy and likely wouldn't have used the pen. So I asked him if I could send him back an updated mockup with changes, meticulously measured, when I returned the prototype to him. Brian, as always, was happy to oblige. So back went the pen, along with this updated diagram: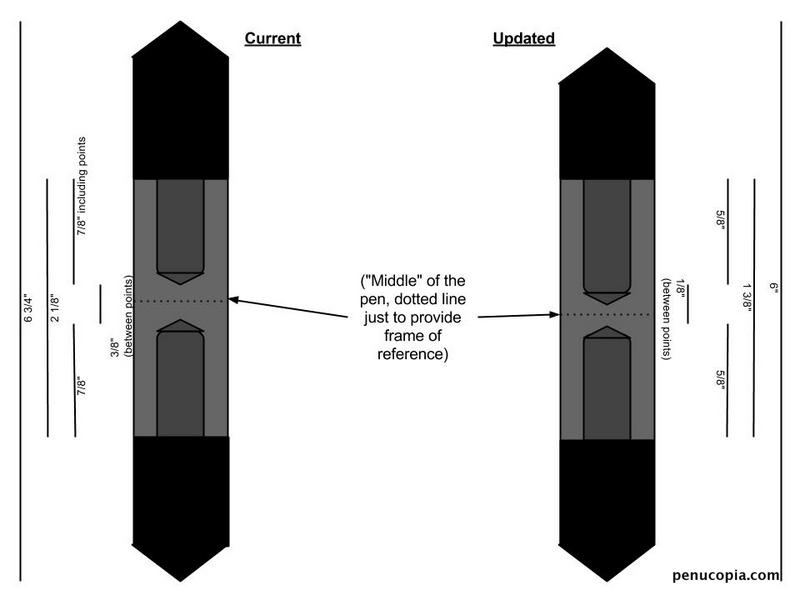 Revised Mockup of Design for Double Ended Pearl
Third Time's a Charm?
By the time Brian got the pen back, we were well into the summer pen show season, which was keeping him quite busy. Also, for work this custom, Brian clears his schedule so he can really focus on getting the pen "just right". So it took him a few months to get to the next attempt. In mid-September, he got the pen done. Was it to my liking? He sent along a photo: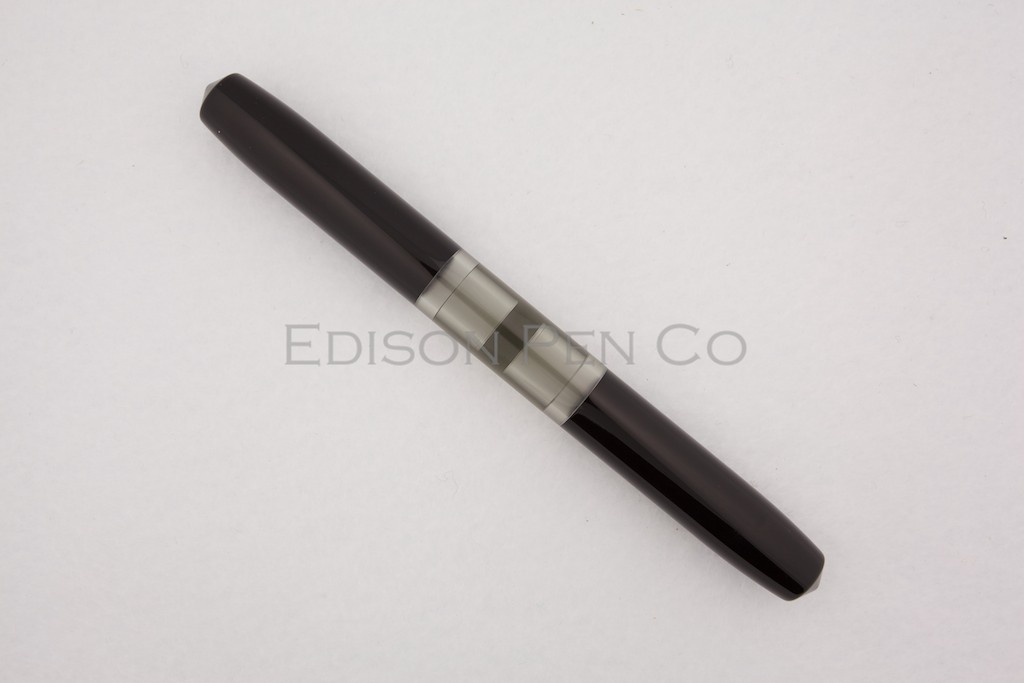 Final Edison Double Ended Pearl - Closed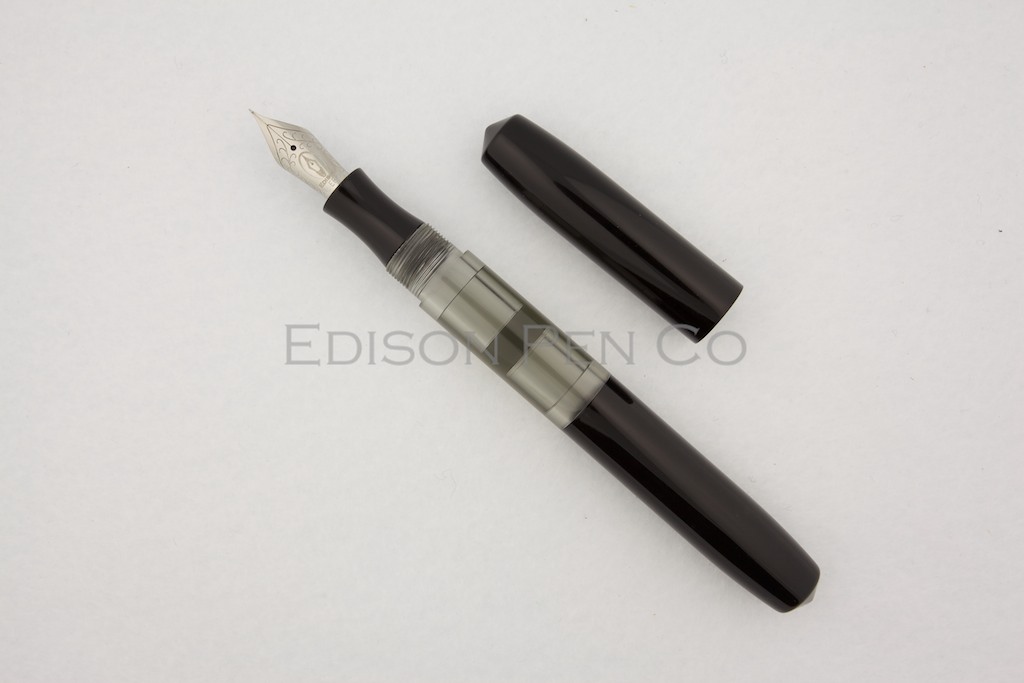 Final Edison Double Ended Pearl - Uncapped
I thought it looked okay. After all, he made the pen to the exact measurements I requested. I asked him to do me one last favor. I wanted a photo next to a standard Pearl, as I had one at home that I could use as a "remote comparison".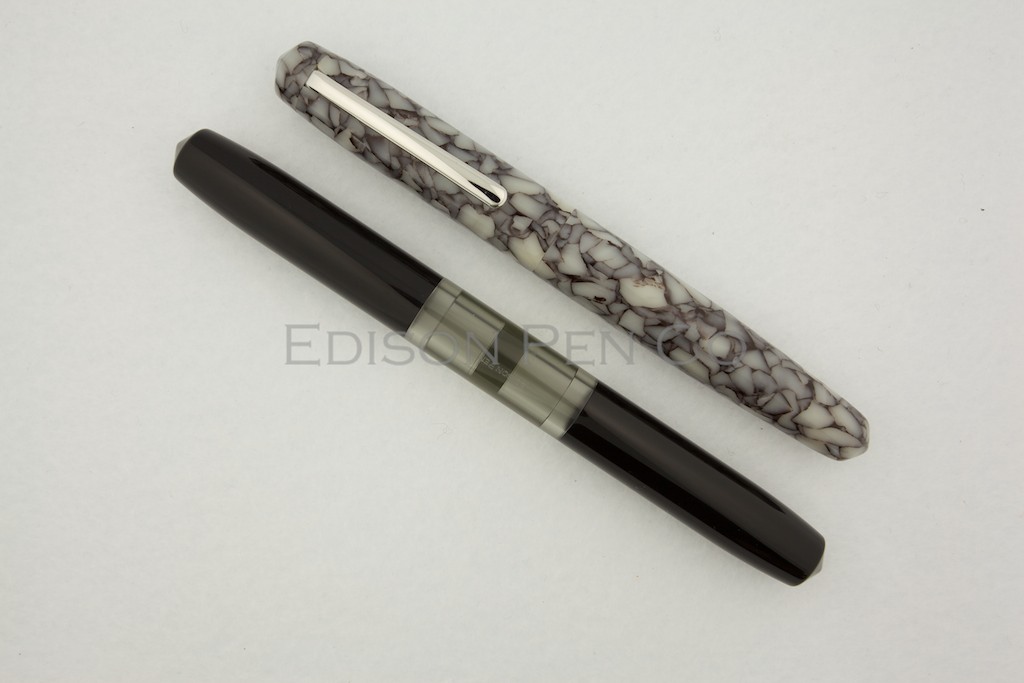 Final Double Ended Pearl - Capped - with Pearl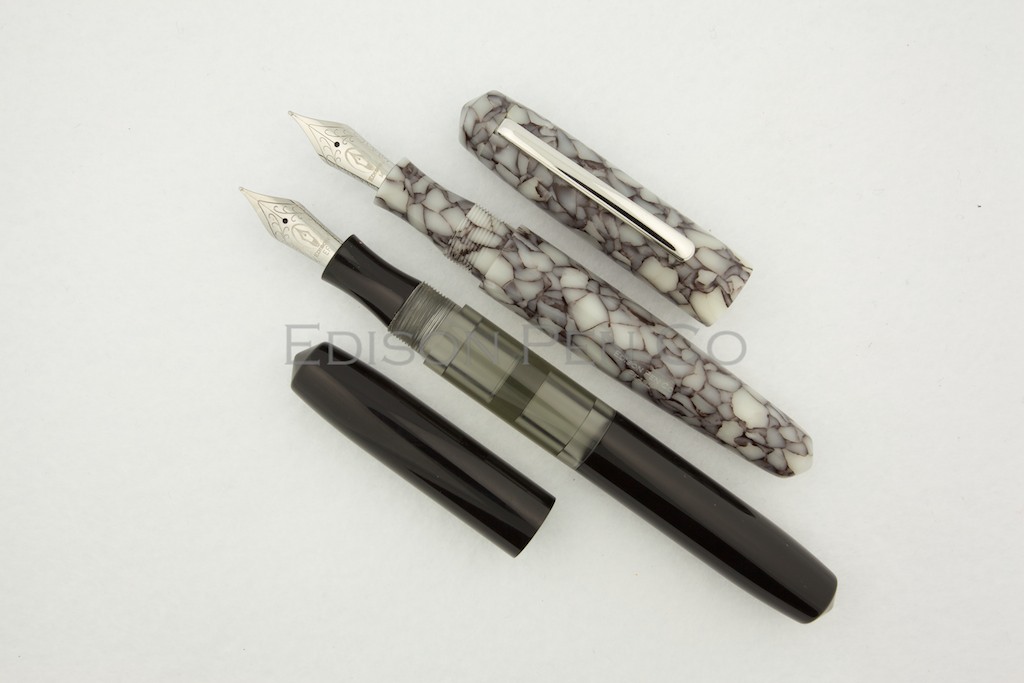 Final Double Ended Pearl - Uncapped - with Pearl
Looks like we have a winner!
Perfection
Once I got the pen in hand, I couldn't believe how perfect it was for me. Obviously, a lot of effort on Brian's part paid off for me in the end. I'm happy to say that I haven't had any issues with this pen leaking or burping ink (except traveling with one nib facing down on an airplane, but that's to be expected). This pen is inked up frequently with two different color inks and is used for highlighting, but I've also found myself using it for regular writing as well.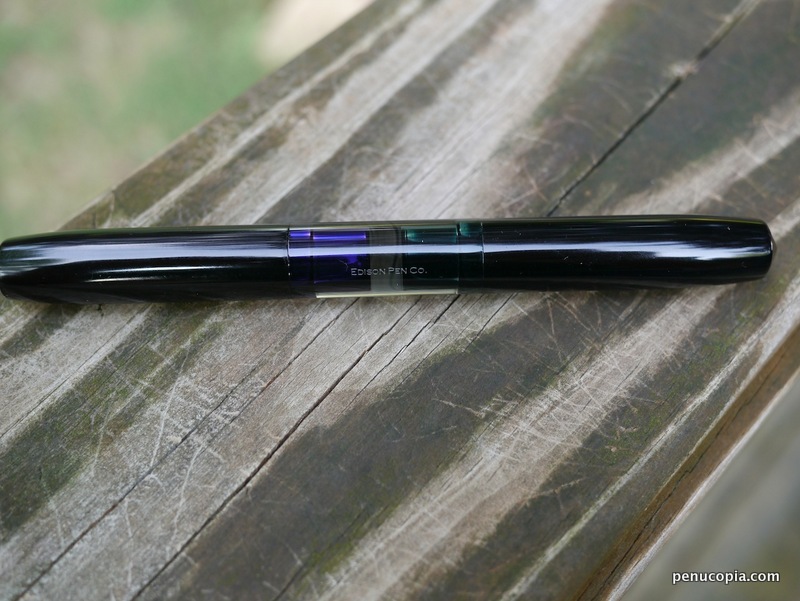 Double Ended Pearl - Inked Up
And now you know the story behind the making of the Edison Double Ended Skinny Pearl. A proper review of the pen will come in the future.
For more information on this pen, check out Brian's blog posts as well:
---
Have a question or want to comment? Contact options on the About page in the sidebar.