My Fountain Pen Introduction Story
Published 2015-01-16 by Thomas R. Hall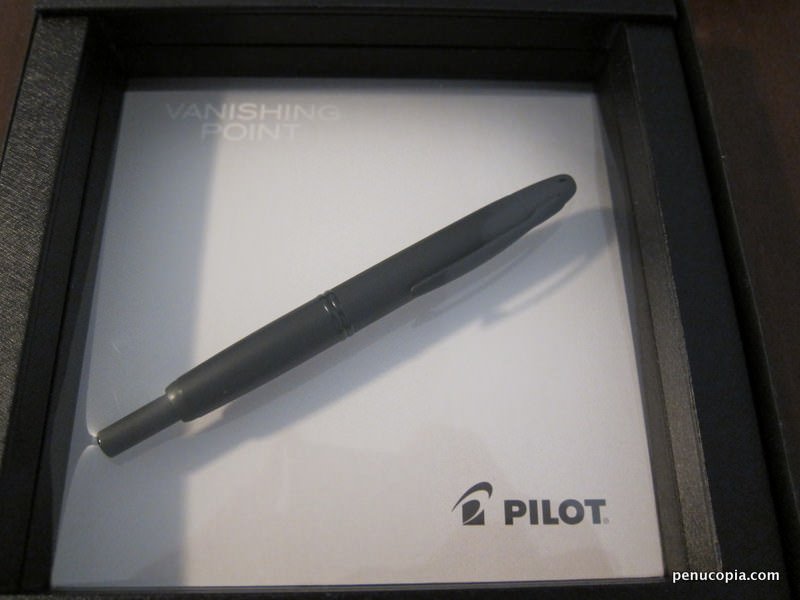 Stealth Pilot Vanishing Point in Box
Note: Part of this story originally was contained in My Pen Preferences, but has been moved here to explain the full story.
I've always had an interest in high-quality writing instruments, as well as calligraphy. I mean, who didn't wonder, way back in middle school, why the United States Bill of Rights and other documents sometimes used a long s when the word Congress was written (as Congrefs)? Oh, you mean I'm the only one?!
My current handwriting style started in middle school, writing with a 0.5mm mechanical pencil. Not only did I switch to printing in all caps, I started to write very small and precise. Ever since then, I've been writing small and in print, using either a pencil or rollerball pens. But I always have had an interest in calligraphy and stationery, even purchasing a Sheaffer calligraphy set in high school.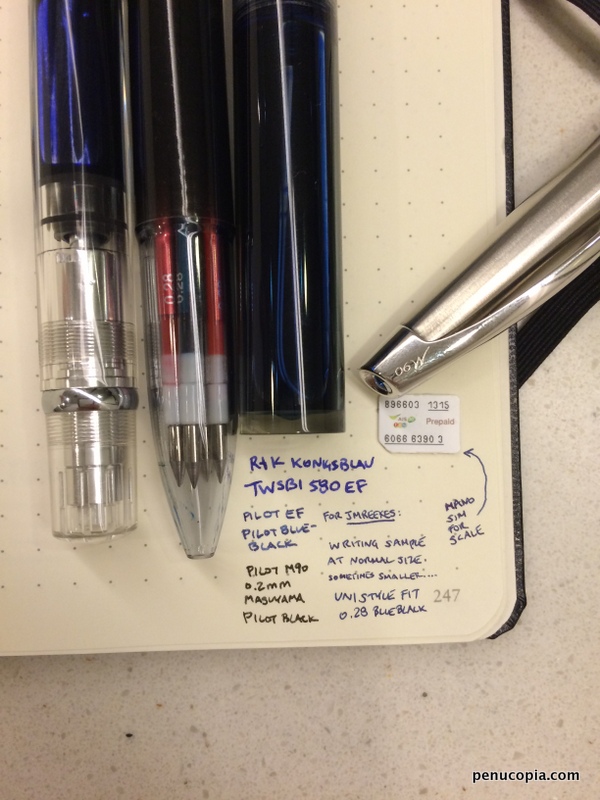 Sample of my extremely small handwriting
In college, although I owned the first Palm PDA (US Robotics Pilot 5000, for those of you that remember), I still preferred keeping myself organized using a paper planner and pen. It was even apparent to my friends, who bought me a Waterman fountain pen as a graduation gift, knowing my love of pens. Once I entered the workforce after college, I switched from using a mechanical pencil to using ultra fine gel pens exclusively. For 12+ years, that's all I used to write at work. But a shift happened in late 2009.
I had been using a variety of PDAs and smartphones, and even had been typing my notes for work. I was trying to do everything digitally. However, being a software developer and typing code all day long as well as typing notes for work took a toll on my arms. Without getting into the boring details, I had (and continue to have) some major RSI issues, resulting in nerve relocation in both of my arms. During the worst time, prior to my surgery, I decided to get back into writing my notes and doing planning/brainstorming on paper to reduce the amount of time I spent typing as one of my lifestyle changes.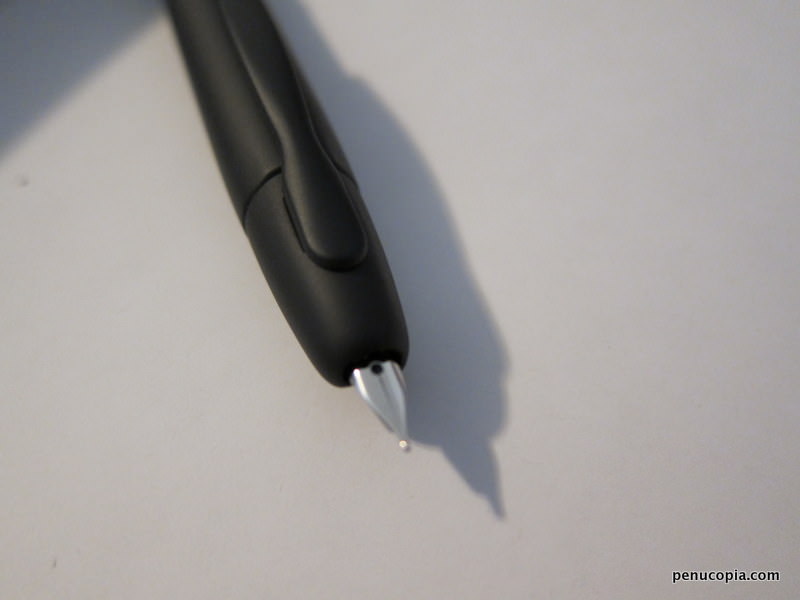 Pilot VP with nib extended
One day, I happened to see a Pilot Vanishing Point (VP) in a local Paradise Pen store (sadly, this location has since closed). They had one inked up so I could test out. Black, with rhodium trim, and a Fine nib. Once I held that pen in my hand and operated the click mechanism to extend the nib and wrote with it, I was hooked. The convenience of a "clicky" pen and the wonderful properties of a fountain pen. Loaded up with the included Pilot Blue Black cartridges, that nib was so smooth to use. It really reignited my love of fine writing instruments, and starting to write again in cursive.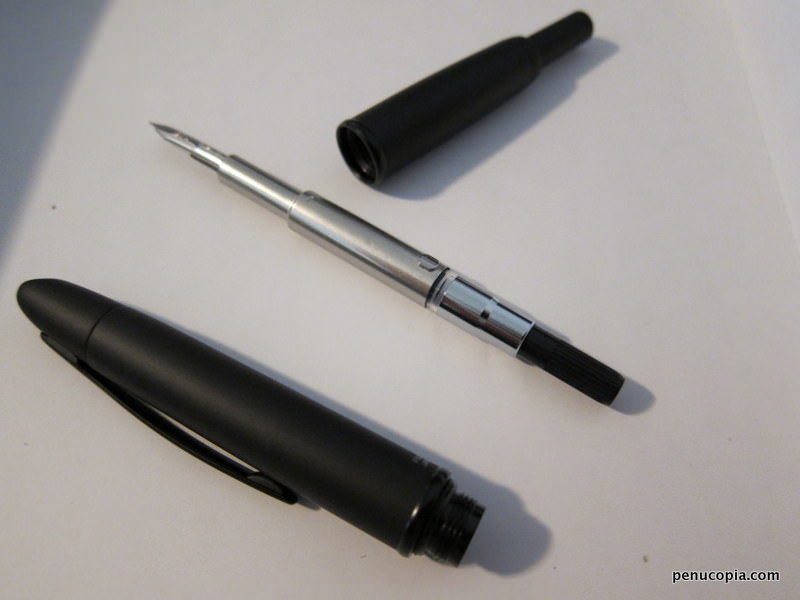 Pilot VP disassembled
The problem is, the combination of a Pilot Vanishing Point and Pilot Blue Black spoiled me. After all, after you have tried a VP, you imagine that every fountain pen must have an equally excellent writing experience, right? Needless to say, I tried other pens that were considered very popular, such as the Lamy Safari, Lamy 2000, and more, and none of them quite have the exact same feel on paper a Vanishing Point has. (Remember, now, I'm just getting into fountain pens, and still don't know a lot at this point. But the point is, the VP is still one of the nicest writing nibs I've used.) Julie over at Peaceable Writer feels similarly about the writing experience of a Pilot Vanishing Point, and explains this more eloquently than I can.
Fast forward to today. Now, I own more than one Vanishing Point, including the Stealth model, as well as a Black Decimo. I prefer the Decimo for its lighter weight and slightly skinnier diameter, but it can only be purchased from Japan. My original VP had a crack on the nose cone near the clip. But a quick trip back to Pilot USA in Florida restored my beloved VP back to like-new condition. (They have excellent customer service, by the way!) I'm so glad, because I was sad when the crack occurred and I had to put the pen away. (Just like I mentioned with a broken TWSBI I had repaired, you should contact the manufacturer as they try to fix pens, and pens are meant to be used, not thrown in a junk drawer.)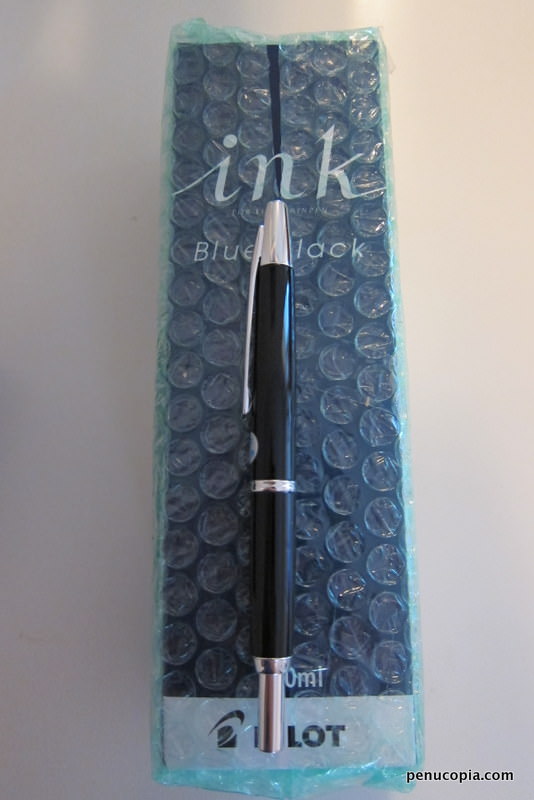 Pilot Decimo with Pilot Blue Black 350mL ink bottle
The problem is, once you've tried such a nice writing pen, you want to see what else is out there. You see, I love the feel of the Vanishing Point and the convenience of its click mechanism. But I would run out of ink at inopportune times becaue I didn't know how much ink was left in the pen. And I started to like the look of demonstrators, so I could see how much ink was left. As I went further and further down the rabbit hole, I started to find other pens that I liked. Same thing with inks. I have tried many inks, but there is something about Pilot Blue Black that I love. Maybe that's why I buy it in 350 mL bottles. (I really wish Pilot would sell Pilot Blue Black ink in the USA.)
I always find myself comparing any other pen's writing experience with the pen that started it all. The VP may not be my "one and only" pen, but it's a great writer that holds a special spot in my collection. And if I could only have one ink, it would be Pilot Blue Black. In fact, Pilot Blue Black is my "desert island ink". But that's a story for another day.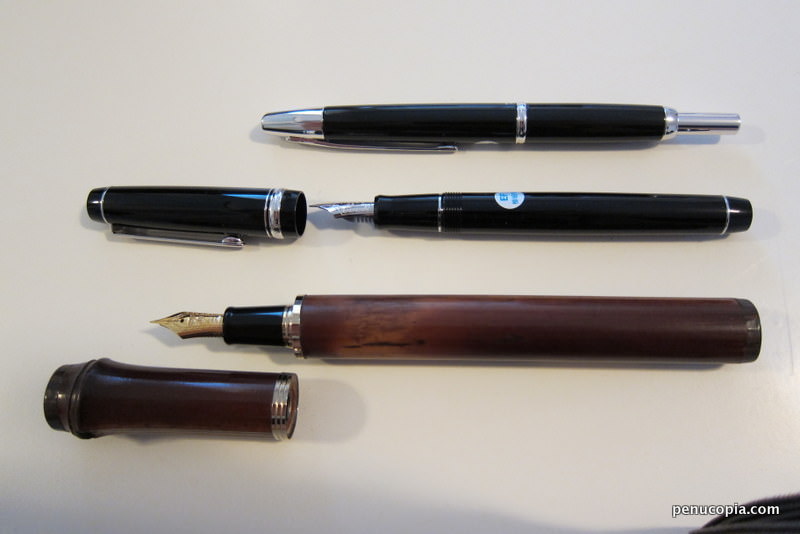 Pilot Decimo and Custom 91 with Sailor Susutake
---
Have a question or want to comment? Contact options on the About page in the sidebar.