Pen Shows - Meeting the Makers
Published 2016-12-21 by Thomas R. Hall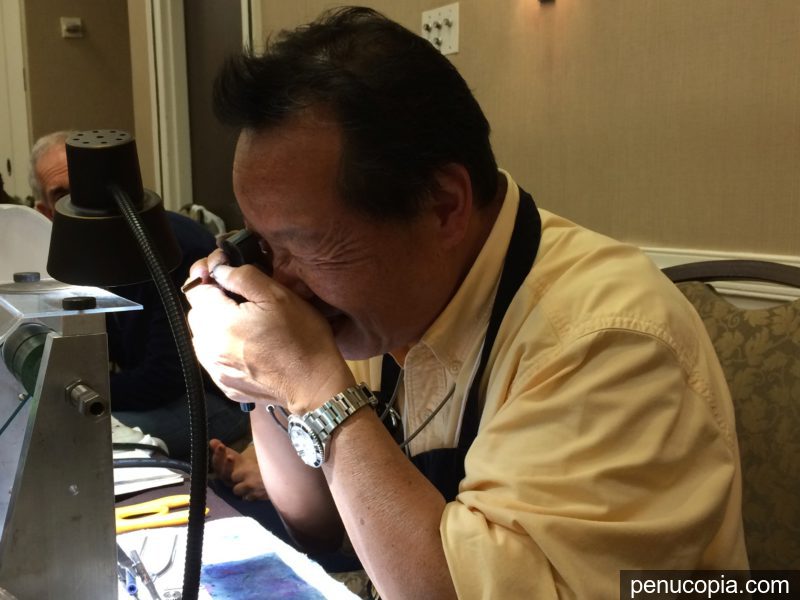 Michael Masuyama examining a nib
Going to a pen show has many benefits. You can get some really good deals on pens or other stationery items. You get to see a product in person and even can try before you buy — especially useful when buying a used or vintage pen. And of course, you get to meet a lot of people: some that you only see one time a year, friends you know online, vendors you interact with, and craftsman who make products you buy.
I was reflecting back on the shows I've been fortunate enough to attend. By far, one of my favorite aspects of attending a show in person is meeting the Makers. Makers are the artisans who make or enhance our stationery products and bring joy into our lives.
Here are some of the types of Makers you can meet:
Custom pen makers
Pen repair people
Custom pen repair tool makers
Urushi and Maki-e artisans
Nibmeisters (or nib artisans, or whatever you choose to call them)
Notebook and paper craftsman
Ink makers
Pen case and wrap manufacturers
Meeting a Maker in person tells you much more than you can get from visiting their website or by sending them a pen to repair. It shows you the passion and character of the people and helps you understand more about them as humans. Handling a pen in person and having the pen maker explain to you why they chose to do something specific with the design gives you a deeper understanding and appreciation for why the decisions were made. You can even collaborate with them to discuss new ideas or really flesh out a design for something you're interested in having them make.
Sometimes, you may find out that you don't necessarily get along with a particular Maker (or retailer). They may be famous and well-regarded, but if you don't get along with them or you don't feel that their approach aligns with yours, then it may be best to take your business elsewhere. But a situation like that is also a valuable experience to have.
But the vast majority of the time, my personal interactions not only confirmed my (positive) feelings about a Maker, but further strengthened my connection to them. And honestly, my pens are important to me, and having a personal connection with a Maker makes the pens even more special to me. Too often, we have completely virtual interactions with people, only connecting via email or by submitting an online form. And sometimes written communication can be misunderstood. There is something great about hearing someone explain in their own words, using their own tone and pace.
You also learn can about their families, their personal history, and their other interests. It is then that you start to realize that paying for a product isn't just making someone money. It is helping put their children through school, or helping them have the freedom to leave a job they don't enjoy to pursue something they're truly passionate about.
A Sampling of Makers
These are just a few of the Makers I've met at shows. I want to give you some background into just a little bit about what I've learned about these Makers and what I learned from them.
Please note: These aren't endorsements. I think everyone should meet Makers they want to connect with and make their own decisions about each person.
Motoshi Kazuno, Stylo Art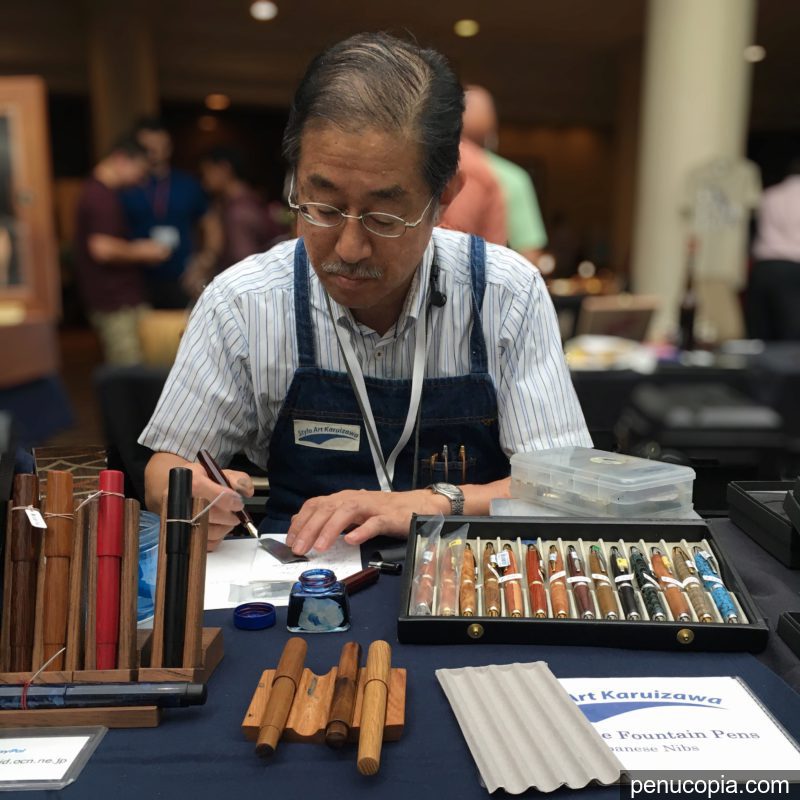 Motoshi Kazuno of Stylo Art tuning a nib
Motoshi Kazuno runs Stylo Art Karuizawa, based in Japan. He has been attending a few of the larger pen shows in the US, and it is neat to be able to see his work up close. Most of his pens are made of different kinds of wood. However, he also makes some pens with ebonite bodies that have urushi applied by another artist for him. He also has some wooden pens that he has coated with urushi, which gives them a very unique look.
He is one of the pen makers that is allowed to put nibs from Pilot, Platinum, and Sailor on his pens. This is a great way to get a nicely crafted wood or urushi pen with an excellent Japanese nib. He carries many of the more unique offerings in Pilot #10 size, including WA (Waverly), PO (Posting), SF/SFM/SM (Soft nibs), and more. He also carefully tunes and smooths each nib for you.
Interestingly, he also has some bindes for Vanishing Points on display at shows! I don't see these on his website, but you can see them in the bottom right of the image above. The work on these is very nicely done. If you can't afford an urushi pen but want something, he also offered pen stands made of wood that have urushi on them for an affordable price.
Speaking with Mr. Kazuno made me aware that he definitely has a passion for his craft and his appreciation of other Maker's work. He closely evaluated my raden pen from Ernest Shin, as well as walked with me over to Bryant Greer's table (Chatterley Luxuries) so we could talk about some of the pens that Danitrio had and compare the techniques used on his urushi and maki-e pens. Seeing his enthusiasm and appreciation for pens and the care he took to tune the nib prior to my purchase made me appreciate his capabilities and his style.
Michael Masuyama, Mike It Work!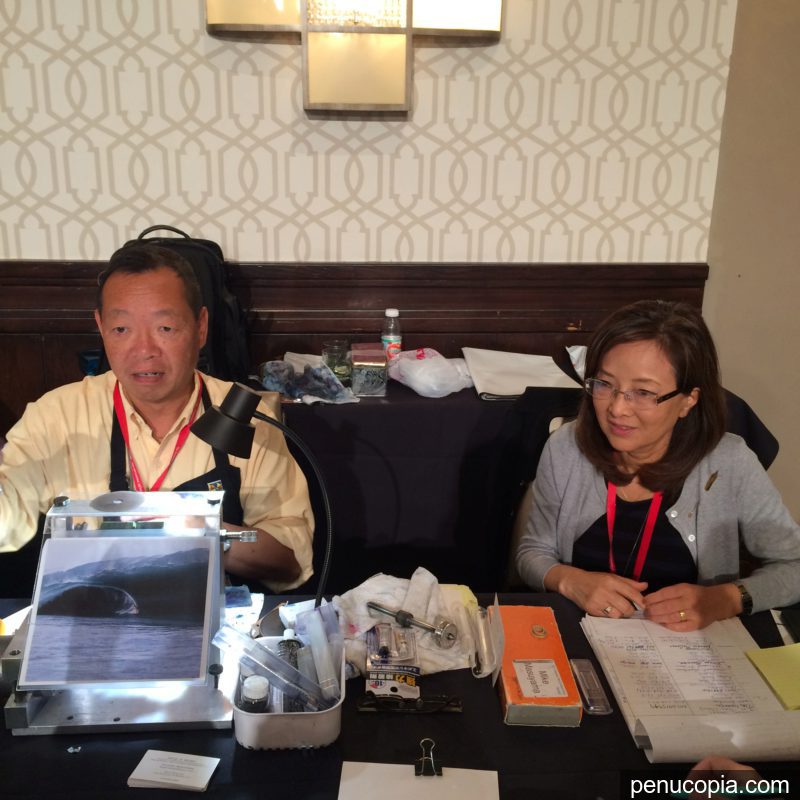 Michael Masuyama and Emiko Masuyama
Nibmeister Michael Masuyama is so well-known that he doesn't need any introduction. Mr. Masuyama is known for the amazing work he does with nibs. But how did he become so good? And why is he well-known? Well, his website says it all:
I have 23 years of experience with Sailor. I have been blessed with the opportunity to work extensively with "the god of fountain pens" Mr. Nagahara and his son. I learned from them the various subtle causes for a pen to lose its true smooth writing. As for the nib adjustment techniques, I learned directly from one of the most respected Japanese "pen-doctors," Mr. Kawaguchi.
Mr. Masuyama still uses custom equipment for grinding nibs that he had from Sailor.
But he doesn't only have a lot of experience with pens, he has a lot of experience in life. Did you know that he likes to surf? Both he and his wife Emiko are wonderful human beings, and the interplay between them is always great. Michael also has a great sense of humor.
At a recent pen show, Brian Anderson of Anderson Pens allowed me to take a Sailor pen with a Saibi Togi nib over to Mr. Masuyama. (The Saibi Togi nib is 0.1mm, which is half the width of a Japanese EF nib.) I asked Michael if he could make it into a triple broad stub for me. He looked at the nib, with a loupe (even though he knew what it was), and after studying it for a moment, he asked me if I only wanted it that big. "I can go bigger than that if you want!", he said.
Masuyama has such an extensive knowledge of pens, and not just Japanese either. Having him work on a pen in person shows you the amount of time he takes to ensure the pen is "just right" for your individual writing style, taking into account the angle you write at, the pressure you use, and many other subtle aspects. He takes his time to make sure everything is perfect, and he has resolved many issues I've had with nibs. Plus, he is the best person to grind a pen to a Japanese EF (0.2mm) or Needlepoint (0.25mm) if you're a small writer like me.
I always walk away from talking with the Masuyamas smiling and happy. They have a great energy, Michael is supremely skilled, and his attitude towards work and life are infectious and enviable. You always learn something when you talk to Michael, be it about life or about pens.
Ernest Shin, Hakumin Urushi Kobo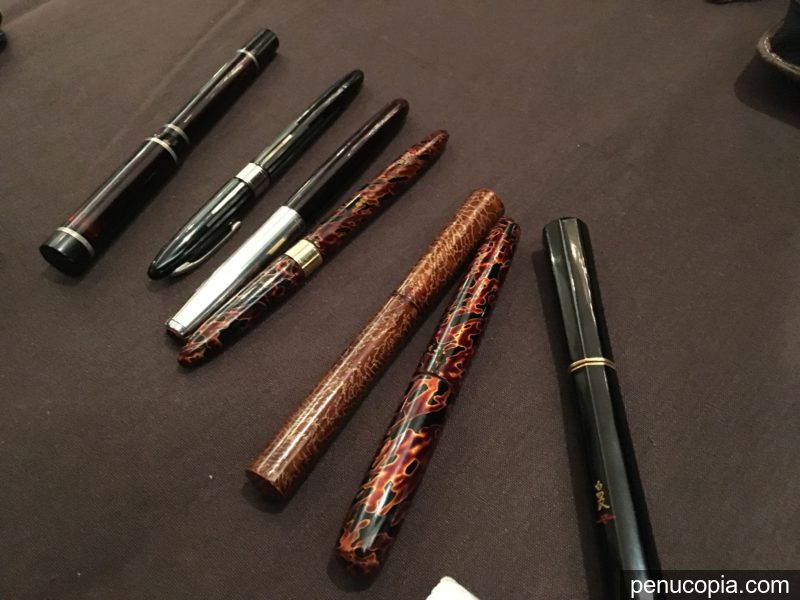 Ernest Shin of Hakumin Urushi Kobo's personal pen collection
Lastly, I have to briefly mention Ernest Shin, of Hakumin Urushi Kobo. His work on my Raden Edison Pearl was wonderful. Even though Ernest takes a while to get a pen done, his work is great. (He has a regular job, so this is something else he does because he enjoys pens.)
One of the fun things about talking with Ernest via email is that he is willing to work through a design with you. He can help you brainstorm, make suggestions, and has good design aesthetic. It's fun to bounce ideas off of him to see what he can do.
Ernest wasn't at a pen show as a vendor, but just visiting and dropping off some pens to customers. I was fortunate enough to meet up with him briefly and see some of his personal collection of work. He is constantly trying new approaches, and being able to see some of those in person was impressive. But hearing him describe the techniques and concepts in person was a treat. Ernest is fairly introverted and shy, but he speaks about his techniques with passion and conviction.
Ernest is always trying new things, and that impresses me. His interest to try to innovate along with his design aesthetic makes him fun to work with. Indeed, others who were nearby were very impressed with him and his work after seeing it in person. Urushi and maki-e work is so difficult to photograph, and seeing and holding one of Ernest's creations help you understand why I like the work he does.
In Closing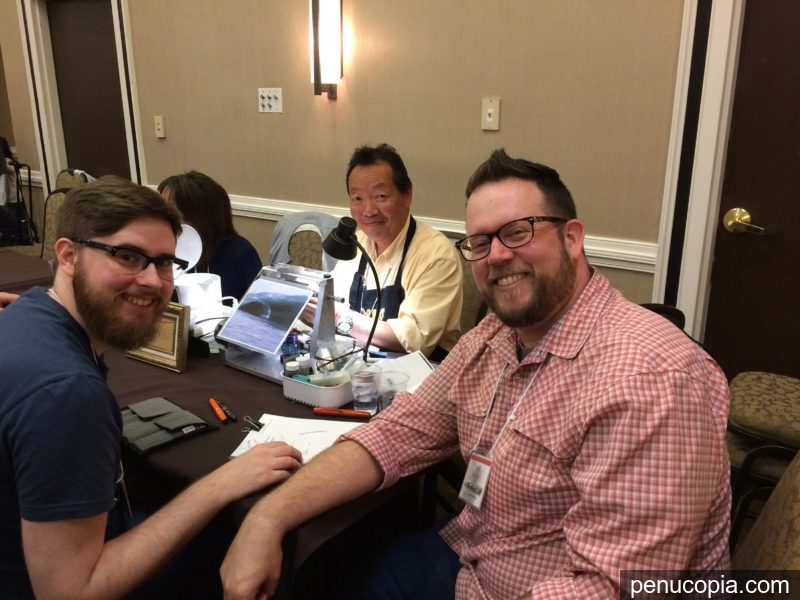 Brad Dowdy, Myke Hurley, and Michael Masuyama
If you do get the opportunity to meet a Maker in person, I highly recommend it. That personal interaction is worth more than dozens of emails or even watching videos of people. Having that exchange will tell you whether you connect with a Maker, and that connection (or lack thereof) will be unique to you.
---
Have a question or want to comment? Contact options on the About page in the sidebar.