Pilot Blue Black Giveaway
Published 2015-07-27 by Thomas R. Hall
In my recent review of Pilot Blue Black, I mentioned how it is my single favorite ink. As I mentioned in the review, it's too bad that it isn't available in the US. (Let's hope that Pilot USA will be able to bring it in for US retailers, rather than being available via importers only such as JetPens.) But I love the ink. And I would love for others to try it. So I've decided to give some away.
As you may recall, I mentioned that the ink is available in 350mL bottles from Japan. When I placed a recent order to get a refill, I picked up some additional bottles. I would like to share some with some of you. How do you go about obtaining a sample? Well, I dislike comments just for giveaways. So…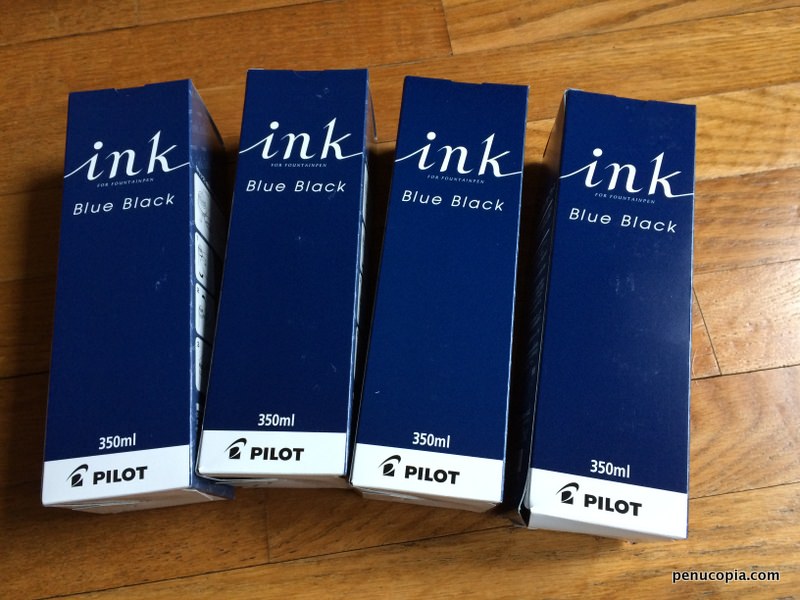 Pilot Blue Black 350mL Bottles
Simply fill in the following form, and enter the required information. This form is hosted on Google Forms, and to prevent people from signing up multiple times, I have to require a Google Account.
I will send samples of Pilot Blue Black out in 15mL Nalgene bottles.
This is open to residents of the

USA

as well as Internationally. However, I reserve the right to limit the number I send overseas, due to cost.
I will send out samples until I run out of ink or Nalgene bottles, whichever comes first.
Those who have interacted regularly on social media will be given priority.
If I get more submissions than available ink or Nalgene bottles, I will choose from the list of responses via Random.org.
Note: I have already received more responses than available ink, so receipients will be chosen randomly.
Entry in the giveaway is open from 2015-07-27 until 2015-08-03, ending at 23:59:59 Eastern Time. Samples will be sent out as time permits over the course of the month of August. If you will be at the DC Pen Show and want to pick up the ink in person to save me money from shipping it and be more environmentally friendly, let me know in the form.
The form is now closed. Thanks to those who signed up.
---
Have a question or want to comment? Contact options on the About page in the sidebar.