Some Favorite Nock Cases
Published 2015-12-27 by Thomas R. Hall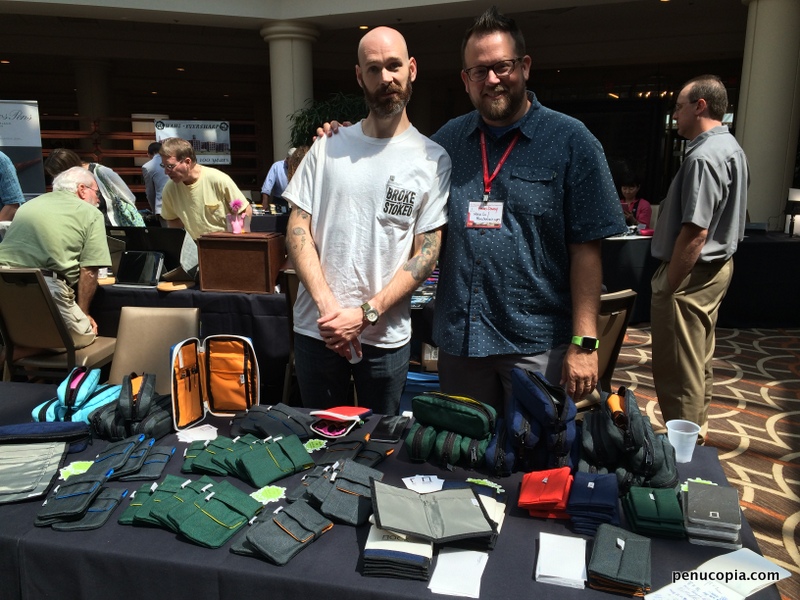 Brad Dowdy and Jeff Bruckwicki at the DC Pen Show
Ever since Brad and Jeffrey teamed up and launched their Kickstarter campaign to start Nock Co. in September 2013, I've been a supporter of their products. Nock makes a variety of cases, but a few have emerged as my current favorites. Rather than review these cases, I thought I would describe how I use them on a regular basis.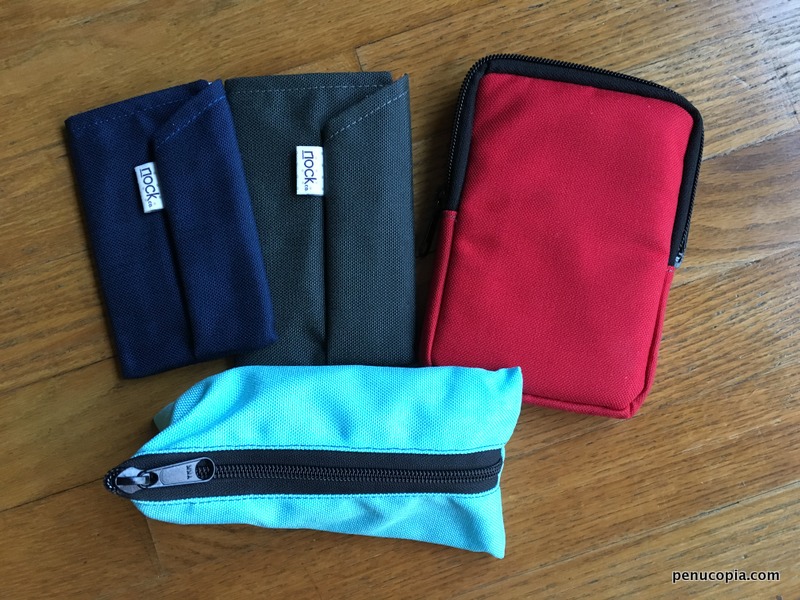 Favorite Nock cases: Fodderstacks, Sinclair, and Chimneytop
Chimneytop
This deceptively simple looking case was one of the originals that Nock launched as part of their Kickstarter campaign. Having a simple container that zips shut is very useful. The Chimneytop comes in a set of one small and one large case.
The Chimneytop is slightly different than most standard zipper pouches you're used to seeing for pencils and accessories. The top end (where the zipper terminates) is slightly larger than the other end. This interesting configuration means that I can fit oddly shaped items such as electronics charger cables and adapters.
I use these way more than I thought I would originally, and for several different types of content. One is used to hold an array of stationery items. Another for charging cables. Yet another holds all of my spare Newton Shinobi sections in containers.
Chimneytops take up very little space, pack flat when empty, and hold up well. I love these little cases.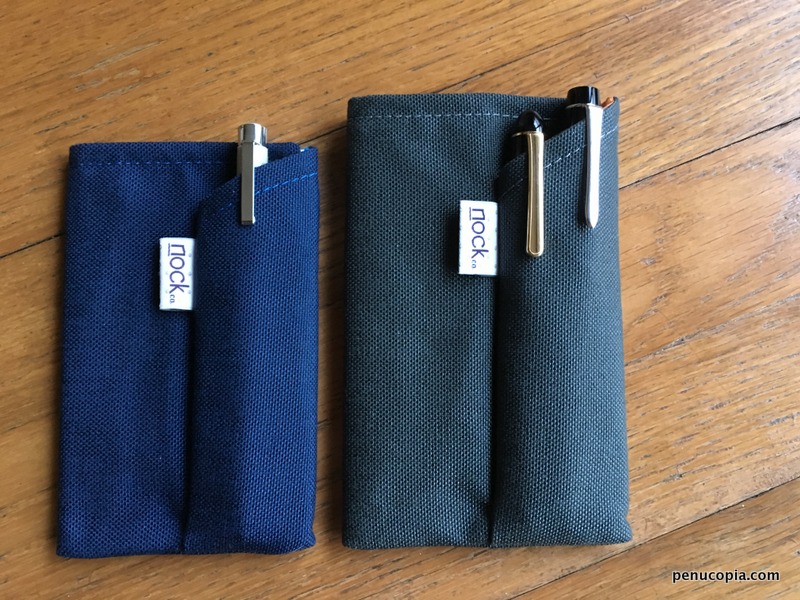 Nock Fodderstack and Fodderstack XL
Fodderstack
The Fodderstack was the first really unique design that Jeffrey made that told me that he "gets" stationery people. Designed to hold 3x5 index cards securely, the front also has an integrated slot for a writing utensil.
The beautiful thing is in the simplicity of the design here. Index cards go in the open top slot, don't easily fall out, but are readily accessible. The Fodderstack is just big enough to hold index cards, no bigger. It can even fit into a front shirt pocket without being too bulky, though I don't regularly do that. (No need for a modern pocket protector here.)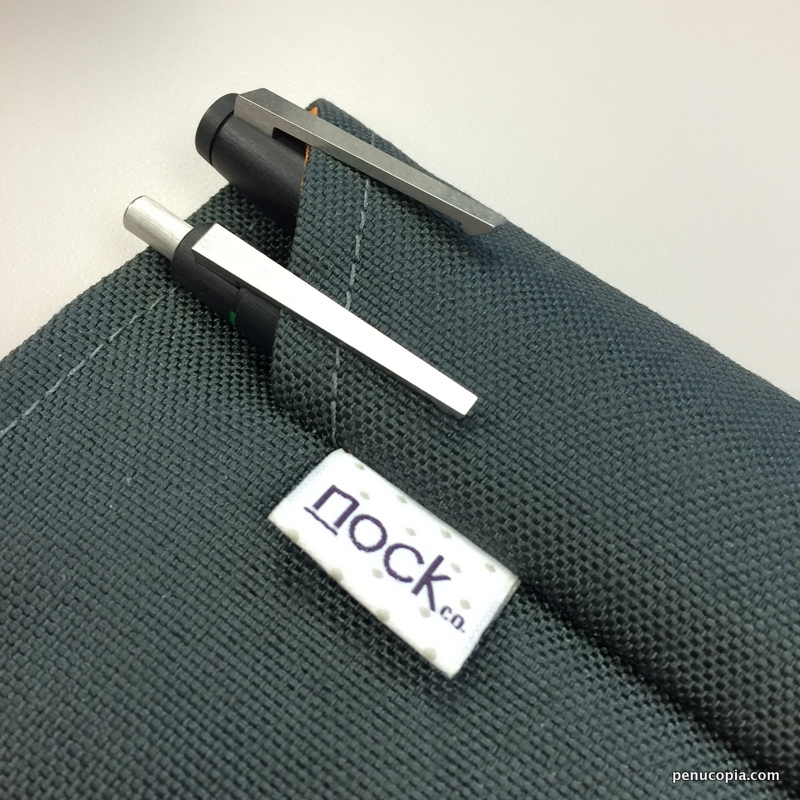 Fodderstack XL with 2 pens
Fodderstack
XL
As useful as the Fodderstack is, sometimes I want to carry something larger than index cards. That's where the Fodderstack XL comes into play. It is simply a larger version of the Fodderstack, designed to hold a fairly standard size pocket notebook (3.5″ x 5.5″). The Fodderstack XL takes advantage of being bigger by being able to hold two pens, not just one.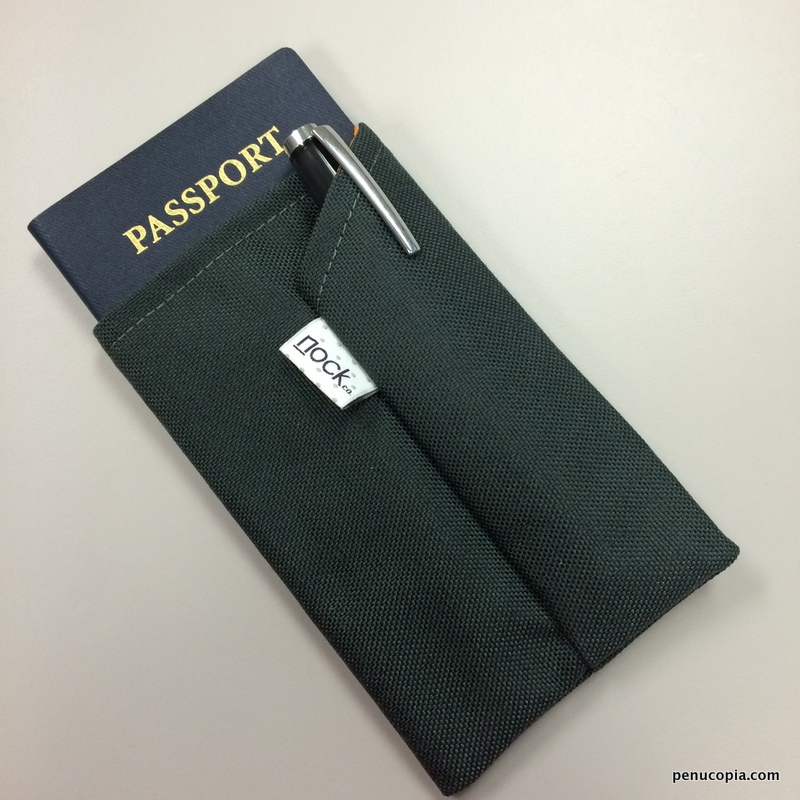 Fodderstack XL with passport
I've found the Fodderstack XL to be useful in other scenarios as well. It can also hold a passport, for example. When I travel, I'll slide in my passport and a pen or two (useful for filling out customs and immigration forms). Even though the Fodderstack XL is larger, it is just as refined and thin as the original. This makes it perfect to throw into a jacket pocket, and it looks at home on a desk when you're using whatever you carry in it.
Nock also make a line of paper products which work well in both Fodderstack designs. Their unique DotDash pattern on the paper is a nice cross between dot grid (my favorite) and grid paper format. Both the Index cards and reporter-style notebook hold up well to most fountain pen nib and ink combos.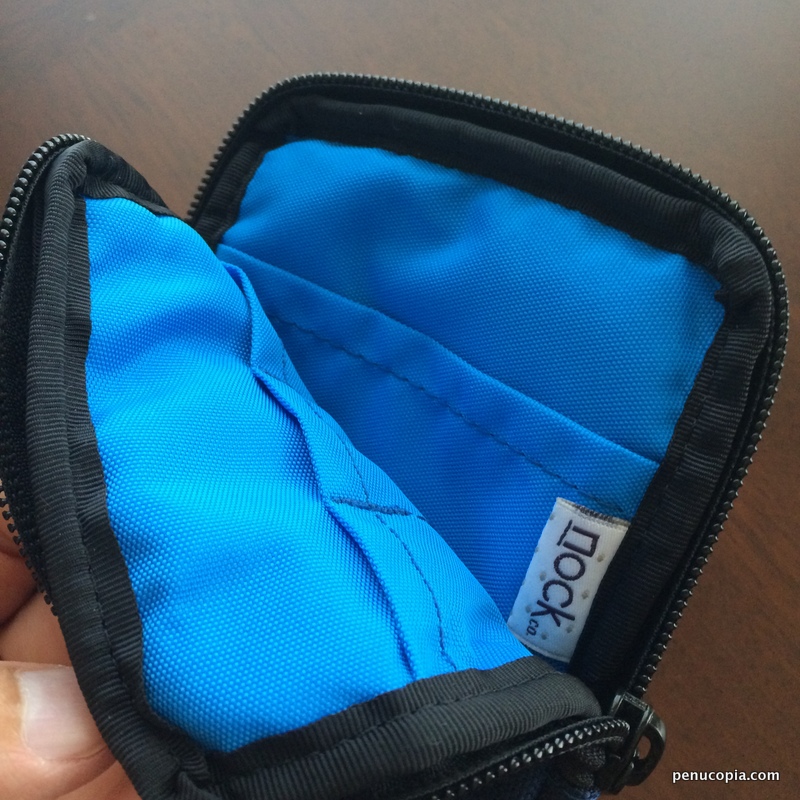 Sinclair peak inside empty
Sinclair
The newest case design, the Sinclair was known as the Halftower while it was a prototype. It is based on the Hightower case, folded in half the top portion zipped closed. When you unzip the Sinclair, you'll see three large pen slots and a slot for a notebook (or passport).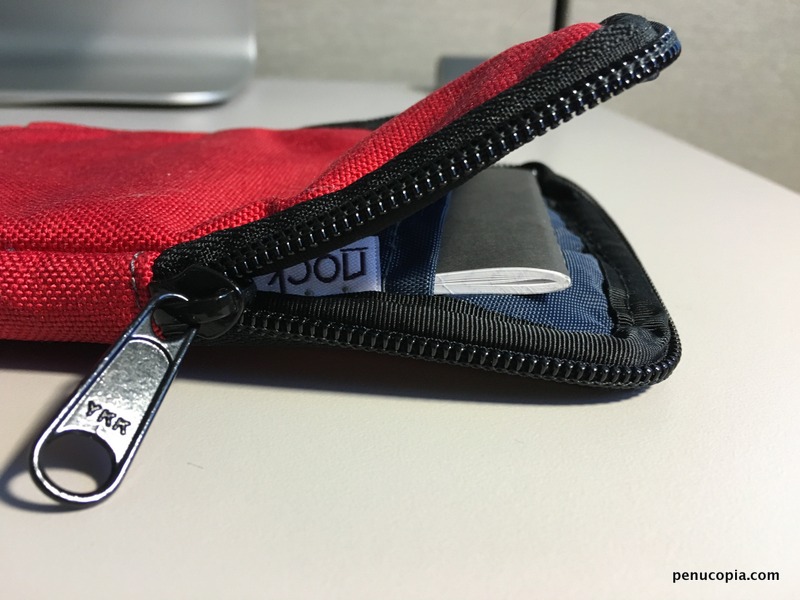 Sinclair looking like a gator
So while this looks like a Hightower that simply zips shut, there is quite a bit more that I use my Sinclair for. I love that it only has a zipper on the top third of the case, as it means I can feel secure about stuffing other items inside.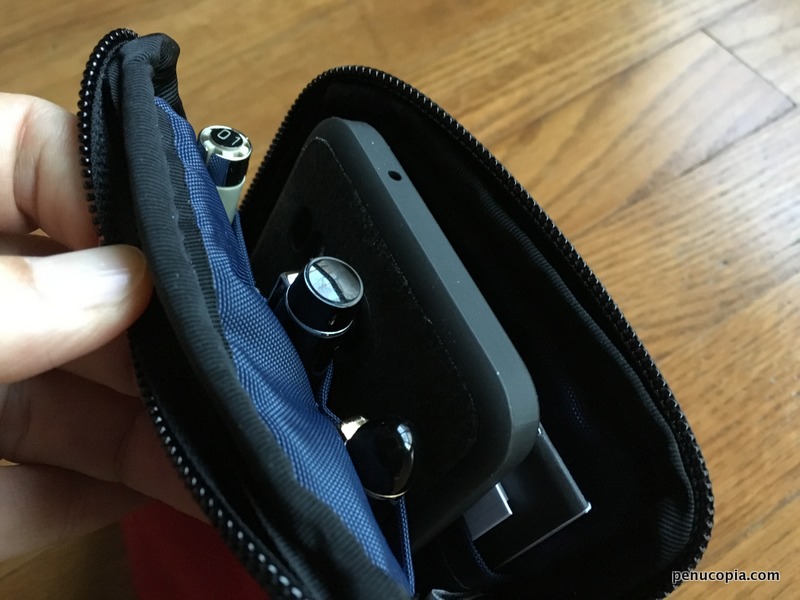 Sinclair fully loaded, inside view
My most common scenario is to carry the following in the Sinclair:
Three larger fountain pens (usually Newton Shinobi, Edison Double Ended Pearl, and Franklin-Christoph Pocket 66)
A 3-refill Uni Style Fit
A notebook (or my passport, boarding passes, and luggage receipts)
3x5 index cards
Business cards
My phone (with case)
Headphones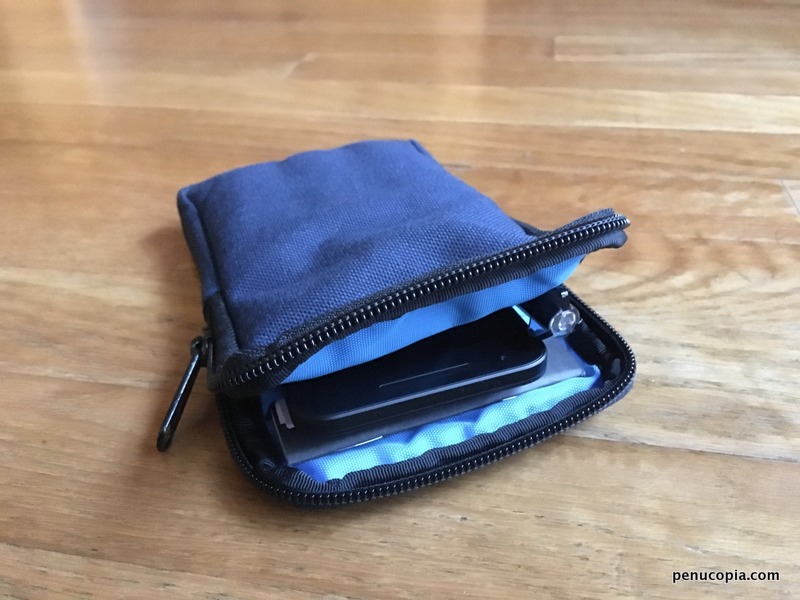 Sinclair with phone inside
How does the phone fit in there? Just slide it in between the two sides and it's a perfect fit. An iPhone 6s with a case fits. I've also seen a bare iPhone 6s Plus fit, and I've successfully put in a Nexus 5X and a Nexus 6P as well.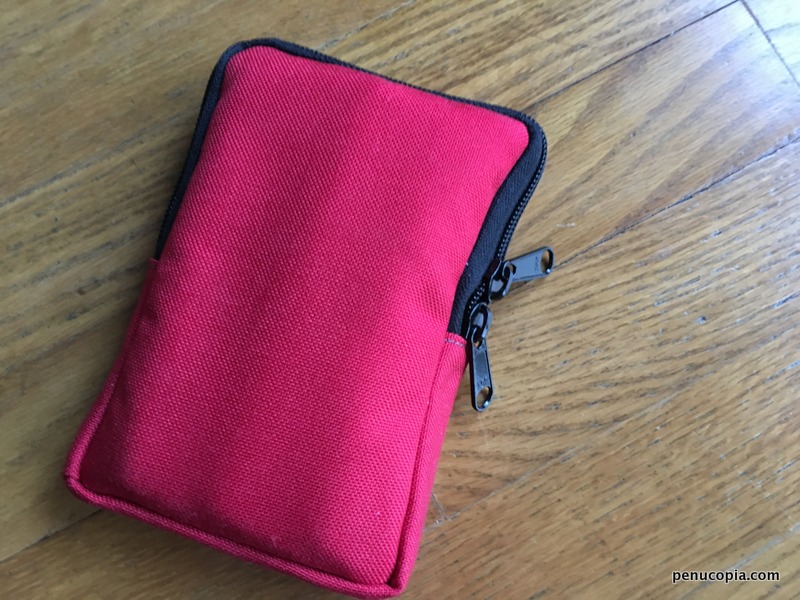 Fully loaded Sinclair, exterior view
Because the Sinclair zips shut, all the contents are secure. Since the Sinclair can hold a superset of what the Fodderstack can, it has become my primary daily carry case for everything I need to carry around with me throughout the day. The Sinclair holds more, so it is fatter. In the times I need something smaller, a Fodderstack comes back into the mix.
I'm very happy with my Nock cases and using them for my daily carry. I look forward to seeing what new designs they release in the future.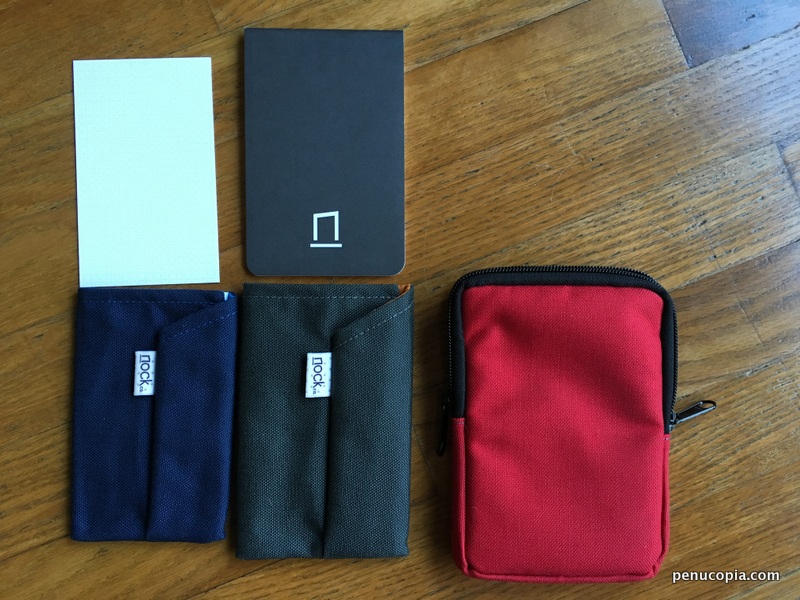 Favorite Nock cases with paper: Fodderstacks, Sinclair, and Chimneytop
---
Have a question or want to comment? Contact options on the About page in the sidebar.