TWSBI - It's All About the Ecosystem
Published 2014-10-11 by Thomas R. Hall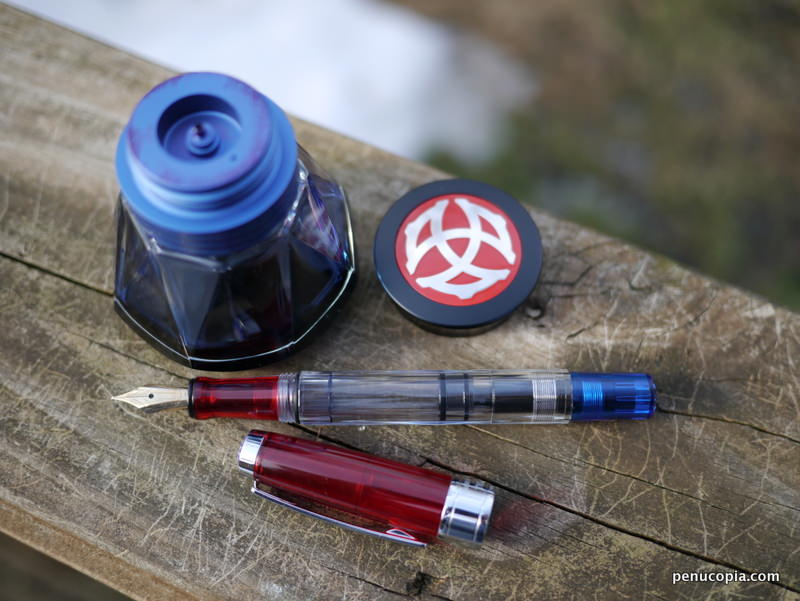 TWSBI Ecosystem - TWSBI ROC 100 and TWSBI Diamond 50 Ink Bottle
When someone bitten by the fountain pen bug moves up from an entry-level pen, the next tier up is often something in the $50-$100 range. One of the brands that is recommended most frequently in this range is TWSBI. But why? Others may have their own reasons, but for me, there are several aspects that make up what I call the "TWSBI Ecosystem".
(Note that this isn't a review of any particular TWSBI pen. I'm just explaining some of the reasons why I like them so much.)
History of
TWSBI
So how did some seemingly random Taiwanese company show up out of nowhere and decide to start manufacturing fountain pens? TaShin Precision has been around for over 40 years, manufacturing products in an OEM capacity for others. They decided to start manufacturing products under their own brand, TWSBI.
TWSBI did something quite unique when designing their first product, the TWSBI Diamond 530. Speedy decided to publicly post about the pen during its initial development. This allowed the fountain pen community to provide feedback about features as the pen went through various prototypes. If you want to learn more about the history of TWSBI, including how the company got its name, the logo design, the fact they donate 7.5% of their profit to charity, and more, definitely check out that thread.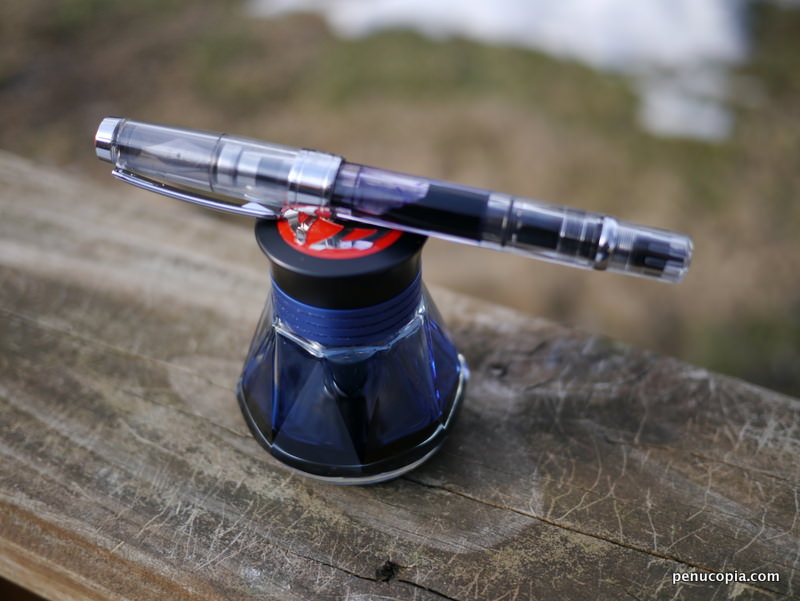 TWSBI Diamond 580 and Diamond 50 Ink Bottle
Practical Design
The TWSBI Diamond 530/540/580 design speaks to me in so many ways. It is a modern looking pen, with its demonstrator diamond faceted barrel. But the design not only looks good, but has some very practical aspects as well.
Faceted Barrel - The faceted barrel allows you to uncap the pen and set it on the table without recapping. The pen won't roll off the table, and looks nice too.
Demonstrator Barrel - Want to see how much ink is left in the pen? It's easy to do with a demonstrator barrel.
Inner Cap - Keeps the nib from drying out and the pen from leaking all over the section. If there are any leaks, they stay in front of the section by the nib.
Removable Section - You can unscrew the section to fill the pen via a

TWSBI

Ink Bottle (more on this below) and swap the nib easily.
Included Tools - Comes with a wrench to remove the piston mechanism and silicone grease to keep the piston working smoothly.
Maintainability
TWSBI built the Diamond 530 around a piston filling design. They were able to make it not only affordable, but made it maintainable by the owner. The pen can be easily disassembled, includes a wrench to easily remove the piston mechanism, and a bottle of silicone grease to maintain the piston mechanism. (Added bonus? You can use the TWSBI wrench to also disassemble larger sized Pelikan pistons.)
When TWSBI initially introduced their italic 1.1 and 1.5 nibs, the inner caps in existing pens didn't have enough space to accommodate the width of these nibs. But that's okay, they just included a new inner cap with the nib units, and you could easily do the swap at home.
TWSBI also tweaks their designs over time to improve upon issues they have. For example, they changed their barrel designs to remove a metal piece where the piston mechanism threads in the back of the pen. The newer parts are backwards compatible with older pens. When I had a replacement barrel sent to me due to a cracking issue, the new barrel worked perfectly with my existing pen parts.
But the modularity goes past that…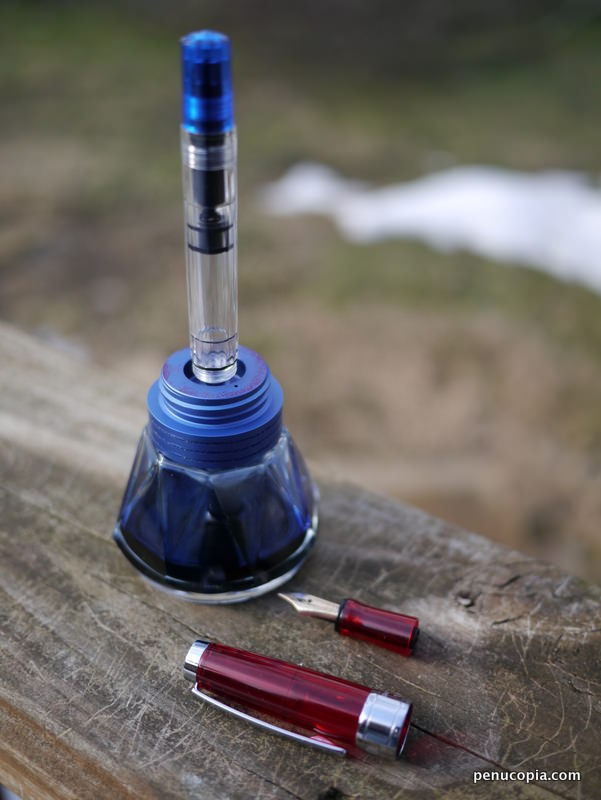 Filling a TWSBI ROC 100 with the Diamond 50 Ink Bottle
Fill'er Up!
Because TWSBI uses German nib units, they were able to do some other interesting things as well. When TWSBI released the TWSBI Diamond 50 Ink Bottle, we found out that not only could it be used to fill TWSBI pens, but also could be used to fill standard western converters as well. And this allows me to cleanly and fully fill a pen or converter. What a brilliant design!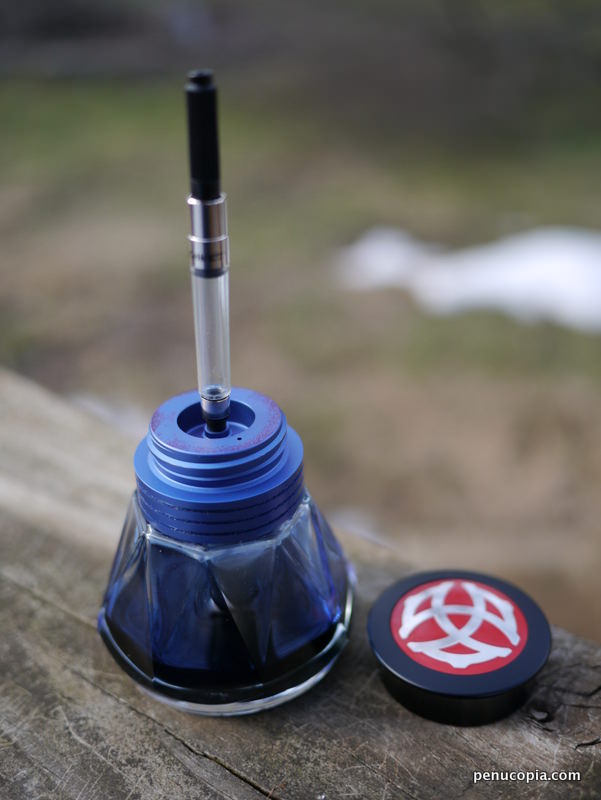 Filling a standard international converter with the TWSBI Diamond 50 Ink Bottle
I use this feature all the time. I keep my favorite inks in these ink bottles for easy refilling when a TWSBI runs low, but also to refill several of my standard western converter pens. In addition, the TWSBI 530/540/580, TWSBI Mini, and TWSBI Classic all are able to use their ink bottles. Great idea and great design, TWSBI.
Brian Goulet has a great video showing the TWSBI ink bottle in action.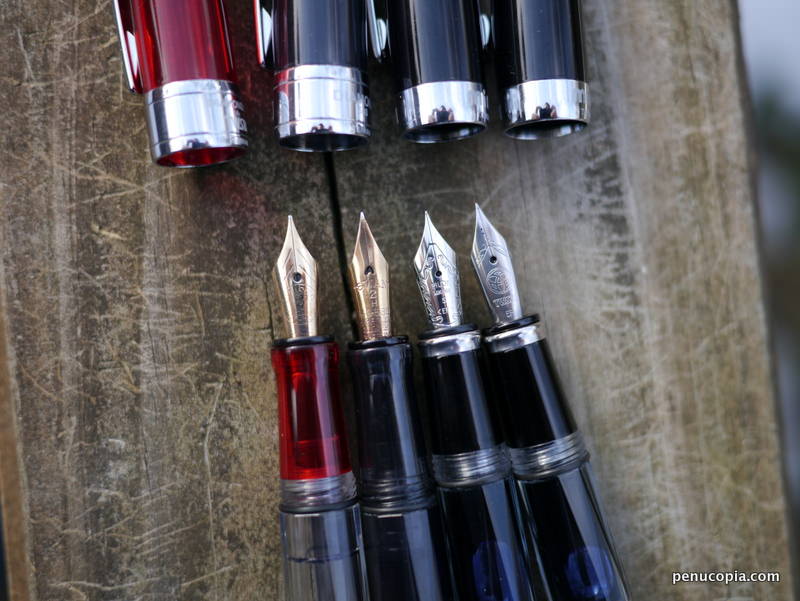 TWSBI Pens with Various Nibs: Vintage Pelikan, Mabie Todd Swan #2, Pilot #5, and stock JoWo
Nibs - A Pen Hacker's Paradise
TWSBI has always used high-quality western nibs in their pens. They have changed nib manufacturers over time, but seem to have settled on JoWo for their nibs. The 580 line uses a #5 nib and the Vac 700 uses a #6 nib. Both are easily swappable with other nib units that TWSBI sells, but also easily removable — you can pull the nib and feed out, as they are just friction fit into the nib housing. (The Mini and Classic use a smaller size nib that is not meant to be easily removed from the nib housing. This is one of the reasons I don't own many of these models.)
NOTE/WARNING - Nib swapping is only for the adventurous. Don't blame me if I entice you with this information and send you down a rabbit hole and you break your pen. :-)
JoWo Nibs
One good thing about these #5 and #6 nibs is that it is easy to swap nibs if you want to. Just pull out the nib and feed from the section and swap! For example, if you have a custom ground Masuyama nib from Franklin-Christoph, a favorite Edison or Newton pen's nib, a Goulet nib, or many other nibs, they can be easily put onto your TWSBI pen, if you so desire.
Vintage (and Flex) Nibs
Additionally, I've found that other nibs also fit on my TWSBIs, and not just modern JoWo nibs. I have several vintage nibs (including flex and semi-flex) in TWSBI nib units. And if you don't feel comfortable doing a nib swap yourself, then buy a pen or a nib unit preconfigured from someone like Mauricio Aguilar at Vintage Pen.
So far, I've been able to successfully use the following nibs on a TWSBI 540:
Mabie Todd Swan #2
Pelikan vintage flex

EEF

Eversharp Skyline
Ayer #2 nib (from Mauricio Aguilar)
(Vintage Waterman nibs haven't worked due to a different nib curvature. Also, most of the more recent TWSBI nib/feeds have a different curvature and some of the above modifications may not work on a TWSBI 580.)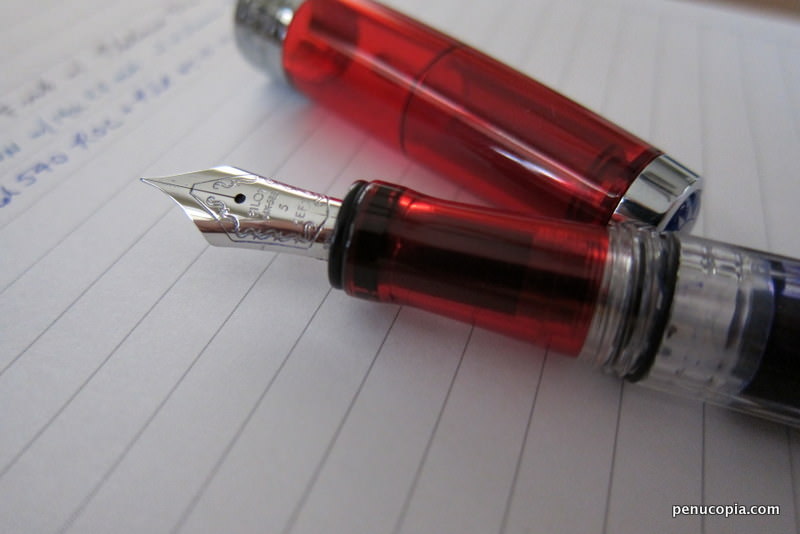 Original PiloTWSBI - TWSBI ROC 100 and Pilot #5 EF nib
Other Nibs
I have even been able to put nibs from other manufacturers onto some of my TWSBIs as well. This includes my favorite combination, my PiloTWSBI. I have a Smoke Diamond 540 with a Pilot #5 EF nib in it, thanks to a neat article by Bruno Taut.
Others have successfully transplanted nibs onto their TWSBIs as well, including:
Since TWSBI sells additional nib units that come in nice little cases, I can easily keep multiple nib units with different nibs available to me.
Customer Service, When You Need It
While I have mentioned some of the reasons I love my TWSBIs, they aren't without flaws. Older TWSBIs (530/540) have had known issues with cracking. I personally have had two barrels crack, a few sections, and a couple of caps have issues as well. (All from normal use, not from any of my nib swapping experiments above.) And keep in mind I own a lot of TWSBIs, and I use them more than most of my pens. So while it seems like I've had a lot of issues, it really isn't much at all.
However, TWSBI has been continually improving their designs, and I haven't seen this recently. For example, I haven't had any issues with any of my TWSBI 580 pens, and I have NEVER had an issue with my Vac 700 pens. TWSBI Minis also seem quite resilient.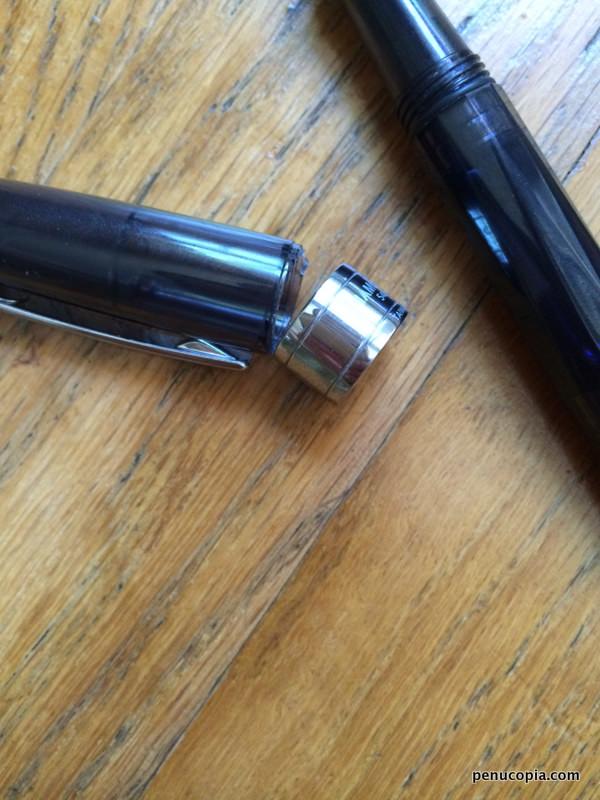 Broken Cap on a TWSBI Diamond 540 Smoke
If you do run into an issue, don't just set the pen aside and think it's broken or that you need to buy a replacement. TWSBI has a history of excellent customer service. Any time I have issues, I simply email them (there are different addresses by region) and they help me with troubleshooting and also send out replacement parts immediately, if needed. If you don't feel comfortable working on the pen yourself, they will also help you with repairs as well.
So yes, it could be possible that you may have an issue with a TWSBI. But their customer service is excellent, and I think rivals many more expensive pen brands. For a sub-$100 pen, I can get replacement parts shipped to me (at no cost to me) within days of an issue. Most other pen manufacturers require that you send them the pen, at your expense, and wait for the repair to be completed.
TWSBI's customer service is top-notch, and Philip Wang in the USA has always handled my issues quickly and is a joy to work with. Don't be afraid to buy a TWSBI or use it. Pens are meant to be used.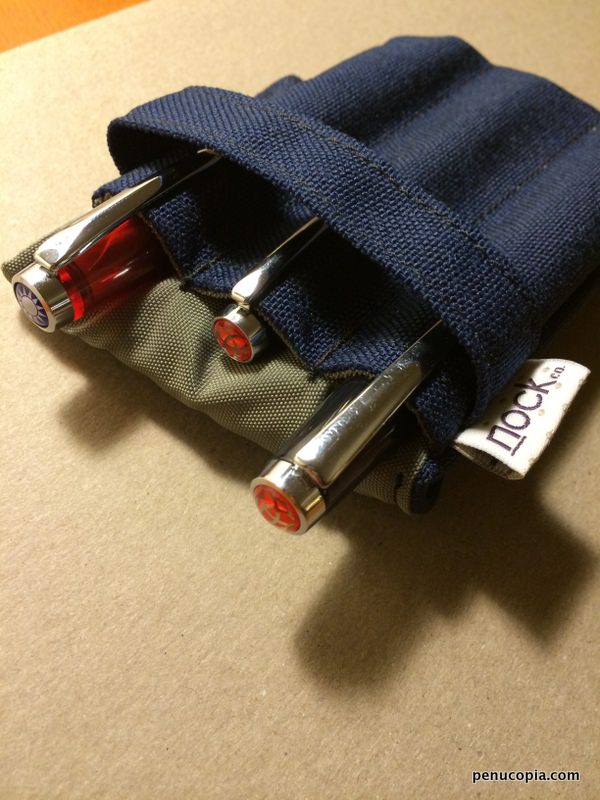 TWSBI ROC 100, TWSBI Mini, and TWSBI Diamond 540 Smoke in a Nock Co. Lookout
Closing
These reasons, among others, are why I almost always have a TWSBI pen inked up. I think that they are reasonably priced, and the designs really speak to me. TWSBI continues to share their design process online (mainly on Facebook) and donate money to good causes. I rotate through my pen collection, but my daily carry pen for work is my PiloTWSBI. Given my extensive collection of fountain pens, this surely says something.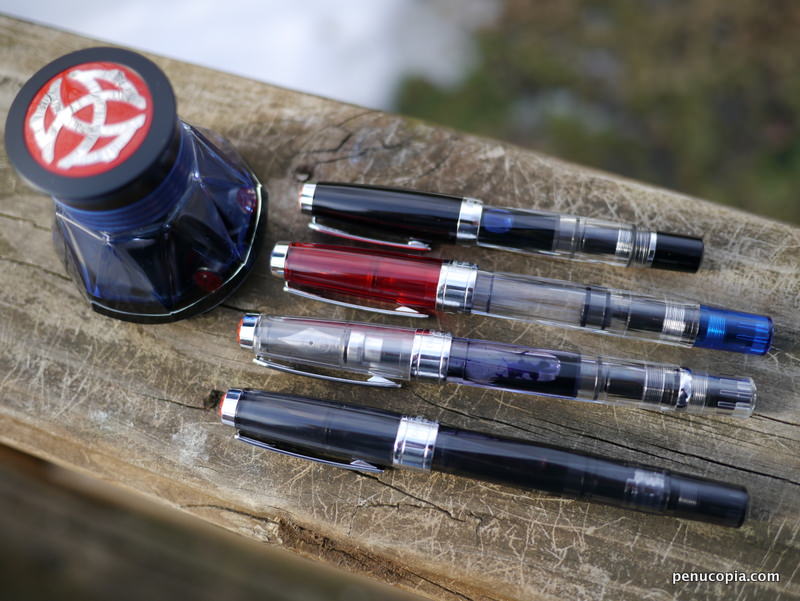 Four TWSBI Pens with Ink Bottle
---
Have a question or want to comment? Contact options on the About page in the sidebar.