Newton Shinobi Giveaway
Published 2015-12-30 by Thomas R. Hall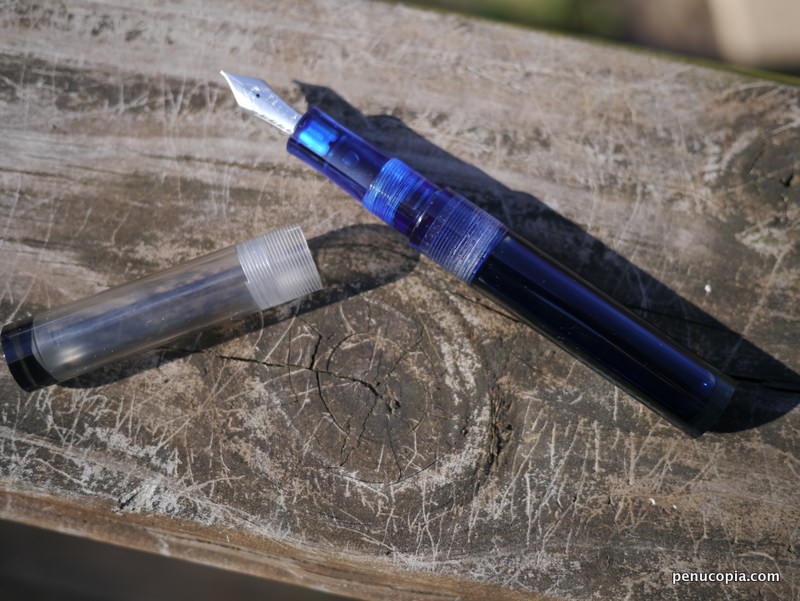 Clear Shinobi uncapped
I've written about my love of my Newton Pens Shinobi before. I loved the original pen so much that I had two more made with designs that spoke to me more.
So I have three Newton Shinobis. But I don't need three. You see, the last two give me enough variety to have 2 of the custom sections inked up at any given time. So what will happen with the original transparent Newton Shinobi? Well, I'm giving it away.
As I mentioned in the original review, I appreciate that Shawn is "paying it forward" by creating scholarships for students, just as he was helped so many years ago. So I decided to partner with Shawn to donate my original clear Shinobi (pictured above).
I wanted to be able to help with Shawn's scholarship fund, so I decided to give my pen away to someone who has entered into Shawn's postcard purchase program. Shawn has graciously agreed to do a custom grind on any steel nib that he has for free along with the pen. (You could purchase a gold nib from him as an upgrade, if you'd like.)
For more information, check out Shawn's post for more details on the giveaway.
Good luck to all who participate, and let's try to help fund some students' futures!
---
Have a question or want to comment? Contact options on the About page in the sidebar.